GIGABYTE "Real Graphics, True Gaming" Tech Tour 2011
.
GIGABYTE "Real Graphics, True Gaming" Tech Tour 2011
The world's premium graphics cards and peripherals Tech Tour is kicking off again!!
Taipei, Taiwan, August 12th, 2011 - GIGABYTE, a leading manufacturer of motherboards and graphics cards, is excited to kick off its GIGABYTE "Real Graphics, True Gaming" Tech Tour 2011. Collaborating with NVIDIA, the Tech Tour started on August 9th in Taiwan with an exciting go-kart race event participated by media, NVIDIA, and GIGABYTE crew. Along with a series of high performance products for hardcore gamers, GIGABYTE also presented a perfect gaming environment with a series of live-demo.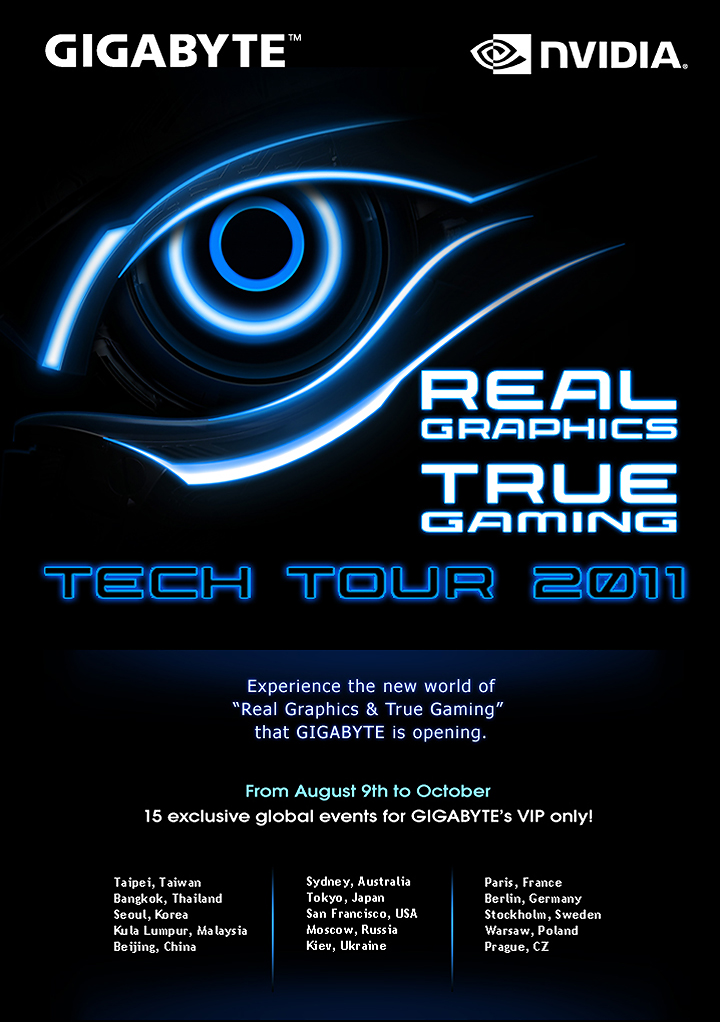 .
Top left: GIGABYTE Graphics Cards Sales & Marketing Division Director, Eddie Lin
Others: Go-kart race participated by Taiwan media, NVIDIA, and GIGABYTE crew
The tours are to promote the best products dedicated for serious gamers, especially NVIDIA's top performance GTX 500 series(GTX 580/ 570/ 560 Ti/ 560), GIGABYTE Super Overclock SeriesTM, and GIGABYTE WINDFORCETM cooling technology. To satisfy users who pursue higher performance with a larger screen when enjoying gaming and video entertainment, GIGABYTE also introduces Aivia M8600 Wireless Macro Gaming Mouse and the innovative new product, Aivia Xenon Touchpad-Mouse! Aivia Xenon is the world's first-ever dual mode touchpad mouse, which is an epoch-making device designed for freestyle users.
After successfully launching GIGABYTE 2010 Global Tech Tour, this year GIGABYTE is introducing a whole new "Real Graphics, True Gaming" concept offering gamers a higher quality of gaming environment by GIGABYTE's best solutions. During Tech Tour 2011, GIGABYTE will communicate with worldwide manufactures, media, business partners, and users directly by traveling 15 major cities across 4 continents from August through November. A series events started from Taiwan, and 14 more will be held in: Bangkok (Thailand), Seoul (Korea), Kula Lumpur (Malaysia), Beijing (China), Sydney (Australia), Tokyo (Japan), San Francisco (USA), Moscow (Russia), Kiev (Ukraine), Paris (France), Berlin (Germany), Stockholm (Sweden), Warsaw (Poland), Prague (CZ).
For more details about the Super Overclock Series and Aivia M8600, please visit GIGABYTE websites:
GIGABYTE SOC: http://www.gigabyte.com/MicroSite/268/images/about.html
GIGABYTE Aivia M8600: http://www.gigabyte.com/products/product-page.aspx?pid=3777#kf
Facebook: http://www.facebook.com/pages/GIGABYTE-VGA/138376338834?ref=nf