EVGA GeForce GTX 460 SuperClocked 1024MB GDDR5 Review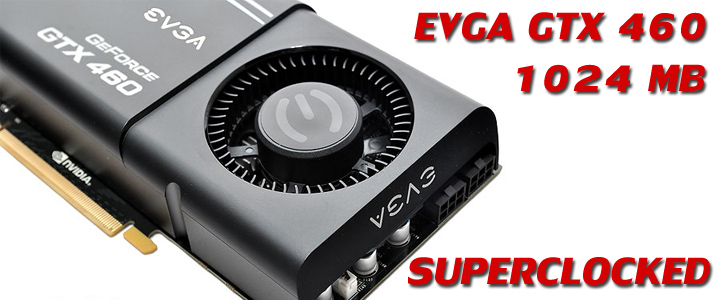 …สวัสดีครับ สำหรับวันนี้ Vmodtech.com เราก็ยังคงมี Graphic Card แรงๆมาให้ชมกันไม่ขาดสายอยู่เช่นเคย โดยการ์ดในคราวนี้จะมากันในแบรนด์ดังอย่าง EVGA ที่มากันในชื่อรุ่น EVGA GeForce GTX 460 SuperClocked 1024MB GDDR5 ครับ ก่อนอื่นไปชมรายละเอียดต่างๆของการ์ดตัวนี้จากเว็บไซต์ของผู้ผลิตกันก่อนนะครับ
EVGA GeForce GTX 460 SuperClocked 1024MB EE (External Exhaust)
Specifications
Performance
NVIDIA GTX 460
763 MHz GPU
336 CUDA Cores
400 MHz RAMDAC
Memory
1024 MB, 256 bit
3800 MHz (effective)
121.6 GB/s Memory Bandwidth
Interface
PCI-E 2.0 16x
DVI-I, DVI-I, Mini-HDMI
Resolution & Refresh
240Hz Max Refresh Rate
2048×1536 Max Analog
2560×1600 Max Digital
Product Warranty
This product comes with a 2 year limited warranty with registration within 30 days of purchase.
Requirements
Minimum of a 450 Watt power supply.
(Minimum recommended power supply with +12 Volt current rating of 24 Amps.)
Two available 6-pin PCI-E power dongles
Notes:
Built from the ground up for DirectX 11, the EVGA GeForce GTX 460 delivers the ultimate next generation gaming experience. With up to 4x the DirectX tessellation performance of the competition*, the EVGA GeForce GTX 460 packs incredible detail and blazing fast frames into your games – without blowing your budget.
In addition, the EVGA GeForce GTX 460 supports NVIDIA 3D Vision, Surround Gaming, PhysX and CUDA technologies making this card the ultimate value for the gaming enthusiast. And with award winning support, utilities and community, you can't go wrong with the GTX 460 from EVGA. Learn more here.
Features
Key Features
Microsoft DirectX 11 support
DirectX 11 GPU with Shader Model 5.0 support designed for ultra high performance in the new API's key graphics feature, GPU-accelerated tessellation.
NVIDIA CUDA technology
CUDA technology unlocks the power of the GPU's processor cores to accelerate the most demanding tasks such as video transcoding, physics simulation, ray tracing, and more, delivering incredible performance improvements over traditional CPUs.
NVIDIA PhysX technology
Full support for NVIDIA PhysX technology, enabling a totally new class of physical gaming interaction for a more dynamic and realistic experience with GeForce.
NVIDIA SLI Ready
Industry leading 3-way NVIDIA SLI technology offers amazing performance scaling by implementing AFR (Alternate-Frame-Rendering) for the world's premier gaming solution under Windows 7 with solid, state-of-the-art-drivers.
NVIDIA 3D Vision Surround Ready
Expand your games across three displays in full stereoscopic 3D for the ultimate "inside the game" experience with the power of NVIDIA 3D Vision and SLI technologies. NVIDIA® Surround™ also supports triple screen gaming with non-stereo displays.
NVIDIA PureVideo HD technology
The combination of high-definition video decode acceleration and post-processing that delivers unprecedented picture clarity, smooth video, accurate color, and precise image scaling for movies and video.
PCI Express 2.0 support
Designed for the new PCI Express 2.0 bus architecture offering the highest data transfer speeds for the most bandwidth-hungry games and 3D applications, while maintaining backwards compatibility with existing PCI Express motherboards for the broadest support.
Two dual-link DVI-I connectors
Able to drive industry's largest and highest resolution flat-panel displays up to 2560×1600 and with support for High-bandwidth Digital Content Protection (HDCP).
Dual-link HDCP-Capable
Designed to meet the output protection management (HDCP) and security specifications of the Blu-ray Disc format, allowing the playback of encrypted movie content on PCs when connected to HDCP-compliant displays.
Microsoft Windows 7 Support
Windows 7 is the next generation operating system that will mark a dramatic improvement in the way the OS takes advantage of the graphics processing unit (GPU) to provide a more compelling user experience. By taking advantage of the GPU for both graphics and computing, Windows 7 will not only make today's PCs more visual and more interactive but also ensure that they have the speed and responsiveness customers want.
OpenGL 4.0 Support
Ensures top-notch compatibility and performance for OpenGL applications.
One mini-HDMI 1.4 connector
.
More Informations >>Click<<
.
ตามด้วยตารางเปรียบเทียบสเป็คคร่าวๆกับการ์ดรุ่นอื่นๆกันต่อเลยครับ
GeForce

GTS 450

Radeon

HD 5770

GeForce

GTX 460

Radeon

HD 5830

GeForce

GTX 465

Radeon

HD 5850

GeForce

GTX 470

Radeon

HD 5870

GeForce

GTX 480

Radeon

HD 5970

Shader units

192
800
336
1120
352
1440
448
1600
480
2x 1600

ROPs

16
16
32
16
32
32
40
32
48
2x 32

GPU

GF106
Juniper
GF104
Cypress
GF100
Cypress
GF100
Cypress
GF100
2x Cypress

Transistors

1170M
1040M
3200M
2154M
3200M
2154M
3200M
2154M
3200M
2x 2154M

Memory Size

1024 MB
1024 MB
768 MB
1024 MB
1024 MB
1024 MB
1280 MB
1024 MB
1536 MB
2x 1024 MB

Memory Bus Width

128 bit
128 bit
192 bit
256 bit
256 bit
256 bit
320 bit
256 bit
384 bit
2x 256 bit

Core Clock

783 MHz
850 MHz
675 MHz
800 MHz
607 MHz
725 MHz
607 MHz
850 MHz
700 MHz
725 MHz

Memory Clock

900 MHz
1200 MHz
900 MHz
1000 MHz
802 MHz
1000 MHz
837 MHz
1200 MHz
924 MHz
1000 MHz

Price

$129
$159
$199
$230
$289
$310
$349
$400
$499
$630
…จะเห็นได้ว่าสเป็คมาตรฐานที่ทาง NVIDIA วางไว้ จะใช้หน่วยความจำขนาด 768MB 192 bit แต่การ์ดของ EVGA ที่เรานำมาทดสอบคราวนี้ จะมีหน่วยความจำขนาด 1024MB 256 bit เหนือมาตรฐานกันไปเลย ซึ่งหลังจากเปรียบเทียบกันจบแล้ว หน้าถัดไปก็ไปชมตัวการ์ดกันต่อเลยครับ
.