GIGABYTE P67A-UD5 Motherboard Review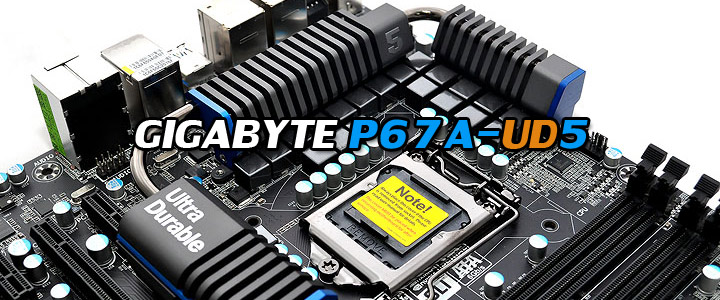 …สวัสดีครับ สำหรับในวันนี้ 18 กุมภาพันธ์ ขึ้น 15 ค่ำ เดือน 3 จะตรงกับวันมาฆบูชา พุทธศาสนิกชนทุกท่านที่มีเวลาก็อย่าลืมทำบุญตักบาตร เข้าวัดฟังธรรมให้จิตใจสงบกันนะครับ ส่วนชาวศาสนาอื่นๆ ว่างๆวันหยุดแบบนี้ไม่มีพิธีทางศาสนาใดๆ ก็ยังทำบุญทำความดีกันได้นะครับในวันนี้ ซึ่งก็ไม่น่าผิดกติกาใดๆ ถ้าเราคิดจะทำความดี และในวันนี้ ผมก็มีความภูมิใจนำเสนอมาเธอร์บอร์ดสำหรับ 2nd Generation Intel CORE Processor ลำดับที่ 20 ที่ทางเราได้ทำการทดสอบแบบเต็มๆกันไปอย่างไม่ขาดสายอีกครั้งนะครับ ซึ่งในคราวนี้ก็จะเป็นมาเธอร์บอร์ดแบรนด์ GIGABYTE โดยมาเธอร์บอร์ดรุ่นที่ผมจะทดสอบกันในวันนี้ ก็จะเป็นรุ่นรองท็อปในแพลตฟอร์ม LGA1155 ของ GIGABYTE โดยจะมากันในชื่อรุ่น GIGABYTE P67A-UD5 ก่อนอื่นเราไปชมสเป็คต่างๆของมาเธอร์บอร์ดตัวนี้กันก่อนเลยนะครับ
Overview
Introduction
Get ready for a mind blowing media experience when you upgrade to a GIGABYTE P67A-UD5 motherboard. Every component on GIGABYTE P67A-UD5 motherboards is designed and engineered to deliver exceptional performance and clarity for your computing needs. Powered by the Intel® P67 chipset with support for 2nd Generation Intel® Core™ processors, GIGABYTE P67A-UD5 enjoy uniquely developed technologies such as Maximum Power Delivery technology, Dual CPU Power technology and Ultra Durable 3™ design just to name a few, that ensure a reliable and enjoyable computing experience.
Maximum Power Delivery
Like the pistons and cylinders of a car engine, the design of the motherboard Voltage Regulator Module (VRM), component quality and number of power phases greatly affects motherboard performance. GIGABYTE engineers were first to realize not only the importance of using the best quality components for this critical area, but also that with more power phases, there can be more power available to your CPU. GIGABYTE 6 series motherboards with their new redesigned VRM, promise to deliver first class system performance and power stability. With only the best quality components and unique design, incorporating Dual CPU Power and Power Phase Boost with Multi-gear Switching, your CPU can enjoy better power than what was available from previous motherboards.
Industry's Leading 20 Phase Power Design
GIGABYTE's cutting edge 20 phase power VRM design utilizes the highest caliber components to provide unadulterated, smooth power to the CPU. The innovative 20 phase power VRM has been designed and engineered to deliver fast transient response times through quick and seamless power delivery during extensive CPU loading variations. In addition, heat from the VRM is effectively reduced by spreading the load between the 20 power phases, resulting in a cooler, more stable platform.
Dual CPU Power Technology
Imagine a workstation class redundant (duplicated) power design on a desktop motherboard. GIGABYTE's proprietary Dual CPU Power Technology allows CPU VRM power phases to split evenly into 2 sets of power engines that operate in tandem. This allows 1 set of power phases to rest while the other is active, as opposed to a traditional power design, where all the power phases are always active. As such GIGABYTE Dual CPU Power effectively halves the amount of work done by each set of power phases to significantly increase motherboard durability and reliability.
New 100% Hardware VRD 12 Compliant CPU Power Design
GIGABYTE 6 series motherboards incorporate an Intel® approved Intersil PWM controller that is VRD 12 (Voltage Regulator Down) compliant. This means that it offers new features that include SerialVID (SVID) which transfers power management information between the processor and voltage regulator controller, allowing more robust and efficient signaling control between the CPU and PWM controller – hence, delivering a more energy efficient platform.
Driver MOSFETs - Integration of VRM Components
A traditional Voltage Regulator Module (VRM) consists of a Choke, Capacitors, MOSFETs and a Driver IC. By incorporating the MOSFETs and driver IC in accordance with the Intel
®
Driver-MOSFET specification, we can achieve higher power transfer and increased efficiency at higher switching frequencies to satisfy the growing power requirements of today's processors. Driver-MOSFETs also help to reduce VRM real estate requirements in the CPU zone.
DualBIOS™ - Patented Dual Hardware BIOS Protection
GIGABYTE DualBIOS™ is a patented technology that automatically recovers BIOS data when the main BIOS has crashed or failed. Featuring 2 physical BIOS ROMs integrated onboard, GIGABYTE DualBIOS™ allows quick and seamless recovery from BIOS damage or failure due to viruses or improper BIOS updating. In addition, GIGABYTE DualBIOS™ now supports booting from 3TB+ (terabytes) hard drives without the need for partitioning, and enables more data storage on a single hard drive.
Ultra Durable 3
The GIGABYTE Ultra Durable™ 3 design features twice the copper for both the power and ground layers of the PCB, dramatically lowering system temperature by efficiently spreading heat from critical areas of the motherboard (such as the CPU power zone) throughout the entire PCB. GIGABYTE's Ultra Durable™ 3 also lowers the PCB impedance by 50%, which helps to reduce electrical waste and further lowers component temperatures. A 2x Copper layer design also provides improved signal quality and lower EMI (Electromagnetic Interference), providing better system stability and allowing for greater margins for overclocking…
more
On/Off Charge Technology
GIGABYTE On/Off Charge technology allows you to charge your iPhone, iPad and iPod Touch regardless of whether your PC is on, in standby mode or even off. A derivative of GIGABYTE's highly acclaimed 3x USB Power feature, On/Off Charge enables devices to draw more current from GIGABYTE motherboard USB ports than standard USB ports allow, so that charging from your PC can be as fast as with a charger…
more
Note: Due to certain mobile phone limitations, users may need to connect the mobile phone to their PC before the PC enters S4/S5 mode to enable a quick charge from non On/Off Charge USB ports. Charging results may vary by model.

SuperSpeed USB 3.0
GIGABYTE Ultra Durable™ 3 motherboards boast SuperSpeed USB 3.0 technology made possible through an additional onboard host controller. With superfast transfer rates of up to 5 Gbps, users are able to experience a theoretical 10x improvement over USB 2.0. Additionally, backwards compatibility with USB 2.0 assures users of long term use of their legacy USB 2.0 devices.
Turbo USB3.0 – Boosts Performance by Up To 10%


When GIGABYTE's Turbo USB3.0 feature is enabled, it provides the fastest possible USB3.0 performance by allocating PCIe lanes to directly connect the CPU and USB 3.0 controller chip. This provides approximately 10% better performance than when it is disabled and USB 3.0 traffic is directed through the chipset.
Note: Turbo USB 3.0 utilizes 8 PCIe VGA lanes, so it is only possible to enable it with a single graphics card running at PCIe x8 on P67 chipset motherboards, or while using Intel® HD Graphics from the CPU (i.e. no VGA card) on H67 chipset motherboards. It is an option for high bandwidth users.
SATA 6 Gbps
GIGABYTE Ultra Durable™ 3 motherboards are High-Speed SATA Revision 3.0 compatible, delivering superfast 6Gbps link speeds for twice the data transfer rates of SATA Revision 2.0 (3 Gbps). When used in RAID 0 (Stripe) mode, they offer even faster data transfer rates of up to a theoretical 4x the speed of current SATA interfaces.
3x USB Power Boost
GIGABYTE motherboards feature a 3x USB power boost, delivering greater compatibility and extra power for USB devices. GIGABYTE's unique USB power design is also able to efficiently regulate output over the full voltage range, which greatly enhances USB device compatibility. In addition, dedicated lower resistance fuses ensure lower voltage drops, and provide more stable and plentiful power delivery.
Turbo XHD- Full Automatic RAID 0
GIGABYTE Turbo XHD provides a quick and easy way to boost your hard drive performance by automatically detecting 2 new SATA3 HDDs and enabling users to effortlessly set up a RAID 0 configuration via an easy to use utility. RAID 0 boosts HDD performance by up to 4X.
Turbo XHD function only enabled for the SATA controllers integrated in the Intel P67/H67 Chipset.
Dynamic Energy Saver™ 2
GIGABYTE Dynamic Energy Saver™ 2 incorporates a host of intelligent features that, at the click of a button, utilize a proprietary hardware and software design to considerably enhance PC system energy efficiency, reduce power consumption and deliver optimized auto-phase-switching for the CPU, Memory, Chipset, VGA, HDD, and fans.
Multi-display support with 2 way SLI™ and 2 way CrossFireX
Flexible graphics capabilities - Up to 2 VGA cards are supported for either 2 way CrossFireX™ or 2 way SLI™ action, delivering the ultimate in graphics performance for gaming enthusiasts who demand the highest frame rates without compromising on resolution.
Power eSATA- Power Cable-free
Featuring with two external SATA (Power eSATA) ports in the rear panel that provide smart setup and hot-plug functionality that allows easier data backup and content manipulation on external storage devices.
Extreme Cooling Solution
GIGABYTE motherboards feature a high performance copper heat pipe with a sintered process to improve heat transfer between the heat source and the cooling fins of the heat sink. The heat sinks are designed for ultra efficient heat dissipation and are aided by the CPU fan blowing air down onto the CPU cooler.
Smart 6 – Smarter PC system Management
Smart QuickBoot
Speeds up booting times.
Smart DualBIOS
Smart personal reminder of PC passwords.
Smart QuickBoost
One-click Overclocking
Smart Recorder
Your PC's Watch Dog
Smart Recovery 2
Allows you to go back in time on your PC and retrieve lost files
Smart TimeLock
Time Controller for your PC.
Cloud OC
GIGABYTE Cloud OC is a free overclocking application that facilitates PC overclocking through any web browsing capable device such as a smart phone, iPad, iPhone, Netbooks or notebook PC. Being browser based, it connects via wireless Internet, Bluetooth or through an Ethernet cable, and its many functions are categorized into three tabs: Tuner, System Info and Control…more

Hotkey OC
GIGABYTE Hotkey OC allows users to create and save various profiles that can be adopted for different benchmarks. Hotkey OC then allows users to jump between these profiles on the fly so that the best profile for each segment within the benchmark can be used to optimize scores and boost overall performance. For example, when running 3DMark 06, the 1st profile might be optimized for graphics, and can be used for the first two graphics tests, then, the next two tests can utilize the 2nd profile which might be optimized for CPU tests, and one could jump back to the 1st profile again for the final two graphics (shader) tests…
more
AutoGreen- Greening your PC via Bluetooth cellphone
AutoGreen technology can automatically save power by simply putting your PC in a state of sleep when your Bluetooth® cell phone is out of range of your computer.
Note: GIGABYTE motherboards do not include a Bluetooth® receiver; the addition of a 3rd party Bluetooth receiver is required.
Hardware OverVoltage Control IC - Enabling Extreme Overclocking
GIGABYTE Hardware Overvoltage Control ICs feature more voltage control options than before for the CPU North Bridge and memory. The overvoltage controllers also provide hardware linear real-time voltage control, which means there is no delay compared to the GPIO controller in past implementations.
Dolby Home Theater® - Enjoy a Rich Home Theater Surround Sound Experience
Dolby Home Theater
®
places listeners in the middle of the action, giving their PCs a powerful set of tools to deliver a cinema-style experience in vivid surround sound.
Delivers vivid surround sound for music, movies, and games, using two to eight speakers or any set of headphones
Designed to automatically deliver the best possible listening experience
ErP Lot 6 support
The ErP (also known as Energy-Related Products Directive) is part of the European Union's environmental regulations policy. It is based on concern for the environmental as the proliferation of electronic devices continues, and how to improve energy efficiency for a better and greener life. GIGABYTE supports ErP and produces motherboards that help you effectively improve system efficiency.
Specification
CPU

Support for Intel® Core™ i7 processors/Intel® Core™ i5 processors/ Intel® Core™ i3 processors/Intel® Pentium® processors/Intel® Celeron® processors in the LGA1155 package (Go to GIGABYTE's website for the latest CPU support list.)
L3 cache varies with CPU

Chipset

Intel® P67 Express Chipset

Memory

4 x 1.5V DDR3 DIMM sockets supporting up to 32 GB of system memory
* Due to Windows 32-bit operating system limitation, when more than 4 GB of physical memory is installed, the actual memory size displayed will be less than 4 GB.
Dual channel memory architecture
Support for DDR3 2133/1866/1600/1333/1066 MHz memory modules
Support for non-ECC memory modules
Support for Extreme Memory Profile (XMP) memory modules

(Go to GIGABYTE's website for the latest supported memory speeds and memory modules.)

Audio

Realtek ALC889 codec
High Definition Audio
2/4/5.1/7.1-channel
Support for Dolby® Home Theater
Support for S/PDIF Out

LAN

1 x Realtek RTL8111E chip (10/100/1000 Mbit)

Expansion Slots

1 x PCI Express x16 slot, running at x16 (PCIEX16)
* For optimum performance, if only one PCI Express graphics card is to be installed, be sure to install it in the PCIEX16 slot.
1 x PCI Express x16 slot, running at x8 (PCIEX8)
* The PCIEX8 slot shares bandwidth with the PCIEX16 slot. When the PCIEX8 slot is populated with a PCI Express graphics card, the PCIEX16 slot will operate at up to x8 mode.
1 x PCI Express x16 slot, running at x4 (PCIEX4)
* The PCIEX4 slot shares bandwidth with the PCIEX1_1 and PCIEX1_2 slots. When the PCIEX1_1 slot or the PCIEX1_2 slot is populated with an expansion card, the PCIEX4 slot will operate at up to x1 mode.
2 x PCI Express x1 slots
(All PCI Express slots conform to PCI Express 2.0 standard.)
2 x PCI slots

Multi-Graphics Technology

Support for 2-Way ATI CrossFireX™/NVIDIA SLI technology
(The PCIEX16 and PCIEX8 slots only.)

Storage Interface
Chipset:

2 x SATA 6Gb/s connectors (SATA3_0, SATA3_1) supporting up to 2 SATA 6Gb/s devices
4 x SATA 3Gb/s connectors (SATA2_2~SATA2_5) supporting up to 4 SATA 3Gb/s devices
Support for SATA RAID 0, RAID 1, RAID 5, and RAID 10
* When a RAID set is built across the SATA 6Gb/s and SATA 3Gb/s channels, the system performance of the RAID set may vary depending on the devices being connected.

Marvell 88SE9128 chip:

2 x eSATA 6Gb/s connectors (eSATA/USB Combo) on the back panel supporting up to 2 SATA 6Gb/s devices
Support for SATA RAID 0 and RAID 1

USB
Chipset:

Up to 10 USB 2.0/1.1 ports (6 on the back panel, including 2 eSATA/USB Combo, 4 via the USB brackets connected to the internal USB headers)

1 x Renesas D720200 chip and 2 x VLI VL810 hubs:

Up to 8 USB 3.0/2.0 ports (4 on the back panel, 4 via the USB brackets connected to the internal USB headers)
* The USB 2.0 signals of the 4 USB 3.0/2.0 ports on the back panel are from the Chipset.

IEEE 1394
T.I. TSB43AB23 chip:

Up to 3 IEEE 1394a ports (2 on the back panel, 1 via the IEEE 1394a bracket connected to the internal IEEE 1394a header)

Internal I/O Connectors

1 x 24-pin ATX main power connector
1 x 8-pin ATX 12V power connector
2 x SATA 6Gb/s connectors
4 x SATA 3Gb/s connectors
1 x CPU fan header
3 x system fan headers
1 x power fan header
1 x Chipset fan header
1 x front panel header
1 x front panel audio header
1 x S/PDIF Out header
2 x USB 2.0/1.1 headers
2 x USB 3.0/2.0 headers
1 x IEEE 1394a header
1 x clearing CMOS button
1 x power button
1 x reset button

Back Panel Connectors

1 x PS/2 keyboard/mouse port
1 x optical S/PDIF Out connector
1 x coaxial S/PDIF Out connector
2 x IEEE 1394a ports
4 x USB 2.0/1.1 ports
4 x USB 3.0/2.0 ports
2 x eSATA/USB Combo connectors
1 x RJ-45 port
6 x audio jacks (Center/Subwoofer Speaker Out/Rear Speaker Out/Side Speaker Out/Line In/Line Out/Microphone)

I/O Controller

iTE IT8728 chip

H/W Monitoring

System voltage detection
CPU/System temperature detection
CPU/System/Power fan speed detection
CPU overheating warning
CPU/System/Power fan fail warning
CPU/System fan speed control
*Whether the CPU/system fan speed control function is supported will depend on the CPU/system cooler you install.

BIOS

2 x 32 Mbit flash
Use of licensed AWARD BIOS
Support for DualBIOS™
PnP 1.0a, DMI 2.0, SM BIOS 2.4, ACPI 1.0b

Unique Features

Support for @BIOS
Support for Q-Flash
Support for Xpress BIOS Rescue
Support for Download Center
Support for Xpress Install
Support for Xpress Recovery2
Support for EasyTune
* Available functions in EasyTune may differ by motherboard model.
Support for Dynamic Energy Saver™ 2
Support for Smart 6™
Support for Auto Green
Support for eXtreme Hard Drive (X.H.D)
Support for ON/OFF Charge
Support for Cloud OC
Support for Q-Share

Bundle Software

Norton Internet Security (OEM version)

Operating System

Support for Microsoft® Windows® 7/Vista/XP

Form Factor

ATX Form Factor; 30.5cm x 24.4cm

Remark

Due to different Linux support condition provided by chipset vendors, please download Linux driver from chipset vendors' website or 3rd party website.
Most hardware/software vendors no longer offer support for Win9X/ME/2000/XP SP1/SP2. If drivers are available from the vendors, we will update them on the GIGABYTE website.
* The entire materials provided herein are for reference only. GIGABYTE reserves the right to modify or revise the content at anytime without prior notice.
* Advertised performance is based on maximum theoretical interface values from respective Chipset vendors or organization who defined the interface specification. Actual performance may vary by system configuration.
* All trademarks and logos are the properties of their respective holders.
* Due to standard PC architecture, a certain amount of memory is reserved for system usage and therefore the actual memory size is less than the stated amount.
More Informations >>Click<<
อัดแน่นกันมาแทบล้นจริงๆครับสำหรับสเป็คต่างๆ ต่อไปเราก็ไปชมหน้าตาส่วนต่างๆของตัวโปรดักส์กันต่อเลยครับ