Intel Core i7-990X Extreme Edition & ASUS Rampage III Black Edition Review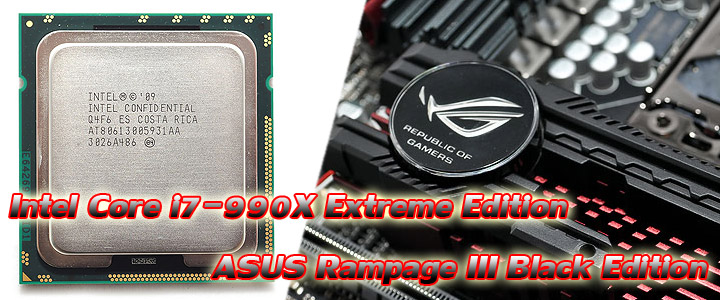 …สวัสดีครับ สำหรับในวันนี้ ผมก็มีความภูมิใจนำเสนอการจับคู่ของสองความแรงอันเป็นที่สุดของ Desktop Computer สำหรับยุคนี้ นั่นก็คือซีพียู Intel® Core™ i7-990X Processor Extreme Edition และมาเธอร์บอร์ด ASUS Rampage III Black Edition ก่อนอื่นเราไปชมสเป็คต่างๆของซีพียูและมาเธอร์บอร์ดชุดนี้กันก่อนเลยนะครับ
Specifications of Intel® Core™ i7-990X Processor Extreme Edition (12M Cache, 3.46 GHz, 6.40 GT/s Intel® QPI)
Essentials

Status

Launched

Launch Date

Q1′11

Processor Number

i7-990X

# of Cores

6

# of Threads

12

Clock Speed

3.46 GHz

Max Turbo Frequency

3.73 GHz

Intel® Smart Cache

12 MB

Bus/Core Ratio

26

Intel® QPI Speed

6.4 GT/s

# of QPI Links

1

Instruction Set

64-bit

Instruction Set Extensions

SSE4.2

Embedded Options Available

No

Lithography

32 nm

Max TDP

130 W

VID Voltage Range

0.800V-1.375V

Recommended Channel Price

$999.00
Memory Specifications

Max Memory Size
(dependent on memory type)

24 GB

Memory Types

DDR3-1066

# of Memory Channels

3

Max Memory Bandwidth

25.6 GB/s

Physical Address Extensions

36-bit

No
Graphics Specifications

Integrated Graphics

No
Package Specifications

Max CPU Configuration

1

TCASE

67.9°C

Package Size

42.5mm X 45.0mm

Processing Die Size

239 mm2

Sockets Supported

FCLGA1366

Halogen Free Options Available

Yes
Advanced Technologies

Intel® Turbo Boost Technology

Yes

Intel® Hyper-Threading Technology

Yes

Intel® Virtualization Technology (VT-x)

Yes

Intel® Trusted Execution Technology

No

AES New Instructions

Yes

Intel® 64

Yes

Idle States

Yes

Enhanced Intel SpeedStep® Technology

Yes

Intel® Demand Based Switching

No

Thermal Monitoring Technologies

No

Yes
More Informations >>Click<<
สเป็คของซีพียูรุ่นนี้ก็มากันเต็มเหยียดทุกความแรงบนโลกมนุษย์ตอนนี้จริงๆครับ ว่าแล้วก็ไปดูสเป็คของมาเธอร์บอร์ดกันต่อเลย
Overview of ASUS Rampage III Black Edition
Gaming as Envisioned by ROG
The Republic of Gamers consists only the best of the best. We offer the best hardware engineering, the fastest performance, the most innovating ideas, and we welcome the best gamers to join in.
In the Republic of Gamers, mercy rules are only for the weak, and bragging rights means everything. We believe in making statements and we excel in competitions. If your character matches our trait, then join the elite club, make your presence felt, in the Republic of Gamers
Rampage III Black Edition Product Overview
CPU Features
LGA1366 Intel® Core™ i7 Ready
This motherboard supports the latest Intel® Core™ i7 processors in LGA1366 package with integrated memory controller to support 3-channel (6 DIMMs) DDR3 memory. Supports Intel® QuickPath Interconnect (QPI) with a system bus of up to 6.4 GT/s and a max bandwidth of up to 25.6 GB/s. Intel® Core™ i7 processor is one of the most powerful and energy efficient CPUs in the world.
Chipset Features
Intel® X58 Chipset
The Intel® X58 Express Chipset is one of the most powerful chipset designed to support the Intel® Core™ i7 Processors with LGA1366 package and Intel® next generation system interconnect interface, Intel® QuickPath Interconnect (QPI), providing improved performance by utilizing serial point-to-point links, allowing increased bandwidth and stability. It also supports up to 36 PCI Express 2.0 lanes providing better graphics performance.
Multi-GPU Technology
SLI/CrossFire On-Demand
Why choose when you can have both?
SLI or CrossFireX? Fret no longer because with the ROG Rampage III Black Edition you'll be able to run both multi-GPU setups. The board features SLI/CrossFire on Demand technology, supporting up to four graphics cards in a 3-Way SLI or CrossFireX configuration. Whichever path you take, you can be assured of jaw-dropping graphics at a level previously unseen.
Memory features
Tri-Channel, DDR3 2200(O.C.) MHz
The motherboard supports DDR3 memory that features data transfer rates of 2200(O.C.)/2133(O.C.)/2000(O.C.)/1800(O.C.)/1600(O.C.)/1333/1066 MHz to meet the higher bandwidth requirements of the latest operation system, 3D graphics, multimedia, and Internet applications. The dual-channel DDR3 architecture double the bandwidth of your system memory to boost system performance.
ROG ThunderBolt LAN/Audio Combo
Dedicated NPU
Play FASTER
Even with a high-end CPU and GPU, FPS and MMORPGs can still become a laggy mess if the LAN performance sucks. Gamers yearn to keep gaming framerates solid. The ROG ThunderBolt has been designed from continual feedback from the PC gaming community. By enhancing the 2 key factors (Speed and Sound) that dominate your gaming experience, the advanced integration of the LAN/Audio combo ThunderBolt offers higher throughput and decreased latency is about to bring the best in-game experience to you!
Note: Network Processing Unit (NPU)
Built-in Headset Amp.
Sound GREATER
The ROG ThunderBolt is a dedicated LAN/audio combo card designed for gamers. With the ROG ThunderBolt's high sound quality and built-in amp, gamers can discover the enemy's position much easier and react earlier, making it just like another weapon in a gamer's arsenal! With fine-tuned background sound effects for popular game tyes and Xear 3D Surround tech, ROG ThunderBolt lets you hear better and win easier!
Future Transfer Technology
True USB 3.0 Support
10X faster data rates!
Experience ultra-fast data transfers at 4.8Gbps with USB 3.0—the latest connectivity standard. Built to connect easily with next generation components and peripherals, USB 3.0 transfers data 10X faster and is also backward compatible with USB 2.0 components.
True SATA 6Gb/s Support
Experience the future of storage!
Supporting next-generation Serial ATA (SATA) storage interface, this motherboard delivers up to 6.0Gb/s data transfer rates. Additionally, get enhanced scalability, faster data retrieval, double the bandwidth of current bus systems.
ROG Exclusive Features
Extreme Engine Digi+
Powerful combination of analog and digital design elements
Extreme Engine Digi+ equipped with high performance digital VRM design can easily achieve the ultimate performance with adjustable CPU PWM frequency. It expedites heat dissipation and achieves better electric conduction keeping critical components reliable. Now you'll be able to push your spanking new Intel CPU to the limit, hitting benchmark scores that others only dream of. Extreme Engine Digi+ balances the need for voltage and the desire for rock solid performance to bring the ultimate user experience.
ROG Connect
Plug and Overclock - Tweak it the hardcore way!
Monitor the status of your desktop PC and tweak its parameters in real-time via a notebook—just like a race car engineer—with ROG Connect. ROG Connect links your main system to a notebook through a USB cable, allowing you to view real-time POST code and hardware status readouts on your notebook, as well as make on-the-fly parameter adjustments at a purely hardware level.
ROG iDirect
Tune your PC from your iPhone or iPad now!
Still overclocking your PC the old-fashioned way? Let ROG iDirect bring you a whole new tweaking experience right on your iPhone or iPad! Thanks to the Bluetooth support that comes with select ASUS ROG motherboards, you can monitor your PC and tweak parameters such as voltages and frequencies in real time wirelessly from your iPhone or iPad!
GPU.DIMM Post
Easily check the status of your graphics cards and memory in the BIOS!
Notice potential problems even before you enter the OS! Overclockers can save valuable minutes in detecting component failure under extreme conditions. With GPU.DIMM Post, quickly and easily check your graphics cards and memory DIMMs status in the BIOS, potentially keeping that record-breaking overclock!
Bluetooth v3.0 + HS Support
Diverse Bluetooth and Wi-Fi Enjoyment, New Technology Lifestyle
Onboard Bluetooth v3.0 + HS enables smart connectivity to Bluetooth and wireless internet devices with no additional adapters. Enjoy the convenience and faster transfer rates of Wi-Fi anywhere on both desktops and notebooks.
*The Bluetooth® word mark and logos are registered trademarks owned by Bluetooth SIG, Inc. and any use of such marks by ASUSTeK Computer Inc. is under license. Other trademarks and trade names are those of their respective owners.
Sound with Clarity
SupremeFX X-Fi 2 Built-in
Play with ultra-real cinematic in-game surround sound!
SupremeFX X-Fi 2 delivers incredible gaming audio experiences to ROG die hards. It features EAX 5.0 and OpenAL for ultra-real cinematic in-game audio. It even comes with THX TruStudio Pro, which makes games, music and movies sound way better! SupremeFX X-Fi 2 also implements gold-plated jacks and high quality capacitors to ensure high definition adventures in audio.

Software Bundled
Kaspersky® Anti-Virus
The best protection from viruses and spyware
Kaspersky® Anti-Virus Personal offers premium antivirus protection for individual users and home offices. It is based on advanced antivirus technologies. The product incorporates the Kaspersky® Anti-Virus engine, which is renowned for malicious program detection rates that are among the industry's highest.
Specifications of ASUS Rampage III Black Edition
CPU
Intel® Socket 1366 CoreTM i7 Processor Extreme Edition/CoreTM i7 Processor/
Supports Intel® Turbo Boost Technology 2.0
* Refer to www.asus.com for Intel CPU support list
Chipset
Intel® X58 / ICH10R
System Bus
Up to 6400 MT/s ; QuickPath Interconnection
Memory
6 x DIMM, Max. 48 GB, DDR3 2200(O.C.)/2133(O.C.)/2000(O.C.)/1800(O.C.)/1600/1333/1066 Non-ECC,Un-buffered Memory
Triple channel memory architecture
* Hyper DIMM support is subject to the physical characteristics of individual CPUs. Some hyper DIMMs only support one DIMM per channel. Please refer to Memory QVL for details.
Expansion Slots
4 x PCIe 2.0 x16 , support x16; x16/x16; x16/x8/x8 and x8/x8/x8/x8 configurations
2 x PCIe 2.0 x1
Multi-GPU Support
Support NVIDIA 3-Way SLITM / ATI CrossFireXTM Technology
4 PCIe x16 slots ready for 4 single PCB 2-slot width graphics cards
Storage
Intel ICH10R controller
6 xSATA 3.0 Gb/s ports Intel® Rapid Storage Technology Support RAID 0,1,5,10
JMicron® JMB363 controller
2 xExternal SATA 3.0 Gb/s ports
Marvell® 9182 PCIe SATA 6Gb/s controller
2 xSATA 6.0 Gb/s ports
Bluetooth
IEEE 802.11b/g/n, Wi-Fi Compliant, Bluetooth v3.0 + HS
ThunderBolt LAN/Audio Combo Card
KillerTM E2100 dedicated network processing unit (NPU)
- Advanced Game DetectTM
- Visual Bandwidth ControlTM
- Application Blocking
- Online Gaming PC MonitorTM
- Bandwidth Tester
- Game Networking DNATM
Built-in 2-Channel High Quality DAC/ADC
- Output Signal-to-Noise Ratio (A-Weighted): 116 dB
- Output THD+N at 1kHz: 105 dB
- C-Media 6631 audio processor (Max. 192kHz/ 24-bit)
- TI 6120A2 high fidelity headphone amplifier
- Digital-to-Analog Converter: 120 dB (Max. 192kHz/ 24-bit)
- Analog-to-Digital Converter: 114 dB (Max. 192kHz/ 24-bit)
- Supports 3 Headphone Impedance Gain Modes (up to 300 Ohms)
- Fine-tuned Game Genre EQ Profiles
- XearTM Surround Headphone
- XearTM SingFX
- Equalizer, Environment Effects, FlexBass, Smart Volume, Virtual Speaker Shifter
- DS3D GX 1.0, OpenAL
- Front-panel audio connector (AAFP)
- Line in, Line out, Optical S/PDIF out ports
- USB 2.0 Interface
LAN
Intel® Gigabit Ethernet LAN
Audio
SupremeFX X-Fi 2 Built-in 8-Channel High Definition Audio CODEC
- EAX® AdvancedTM HD 5.0
- THX® TruStudio PROTM
- X-Fi® Xtreme FidelityTM
- Creative ALchemy
- Blu-ray audio layer content protection
- Supports Jack-detection, Multi-streaming, Front panel Jack-retasking
USB
NEC® USB 3.0 controller
- 4 x USB 3.0/2.0 ports (2 at back panel; 2 at midboard)
Intel® ICH10R Southbridge
- 11 x USB 2.0/1.1 ports (4 ports at midboard; 6 ports at back panel, 1 reserved for ROG Connect)
ASUS Unique Features
CPU Level Up
MemOK!
Onboard Switches: Power / Reset / Clr CMOS (at rear)
ASUS MyLogo3
ASUS Fan Xpert
ASUS EZ Flash 2
ASUS CrashFree BIOS 3
Q-Fan Plus
ROG BIOS Wallpaper
ASUS EPU Engine
ASUS Q-Connector
ASUS Q-LED (CPU, DRAM, VGA, Boot Device LED)
ASUS Q-Slot
ASUS Q-DIMM
Overclocking Features
ROG Connect
- RC Poster
- RC Remote
- RC Diagram
- GPU TweakIt
ROG iDirect
GPU.DIMM Post
ROG Extreme Engine Digi+
- 8-phase CPU power
- 3-phase QPI/DRAM power
- 3-phase NB power
- 3-phase Memory power
- ML Caps on CPU, Memory and QPI respectively
ProbeIt
iROG
Extreme Tweaker
BIOS Flashback with onboard switch button
Loadline Calibration
ROG Extreme OC kit
- LN2 Mode
- PCIe x16 Lane Switch
- Q_Reset
- Double Power Supply with dual 8-pin (CPU) power connectors
Intelligent overclocking tools
- ASUS AI Booster Utility
- O.C Profile
Overclocking Protection
- COP EX (Component Overheat Protection - EX)
- Voltiminder LED
- ASUS C.P.R.(CPU Parameter Recall)
Back Panel I/O Ports
1 x PS/2 Keyboard
2 x External SATA ports
1 x LAN(RJ45) port(s)
2 x USB 3.0/2.0 (Blue)
7 x USB 2.0/1.1 (1 port also for ROG Connect)
8 -Channel Audio I/O
1 x Clr CMOS switch
2 x Wi-Fi antenna jacks
1 x ROG Connect On/Off switch
Internal I/O Connectors
1 x USB 3.0/2.0 connector(s) supports additional 2 USB 3.0 ports
2 x USB 2.0/1.1 connector(s) support additional 4 USB 2.0 ports
2 x SATA 6.0Gb/s connectors (Grey)
6 x SATA 3.0Gb/s connectors (Black)
2 x CPU Fan connector(s)
3 x Chassis Fan connector(s)
3 x Optional Fan connector(s)
1 x S/PDIF Out connector
1 x 24-pin ATX Power connector
2 x 8-pin ATX 12V Power connector
3 x thermal sensor connector
1 x En/Dis-able Clr CMOS connector
1 x Front panel audio connector (AAFP)
1 x System Panel connector
8 x ProbeIt Measurement Points
1 x QPI Loadline calibration switch jumper (QPI_LL_SW)
1 x LN2 Mode Header
1 x START (Power On) button
1 x RESET button
1 x EZ Plug connector (4-pin Molex Power connector)
1 x Go Button
1 x BIOS Switch button
1 x ROG light connector
BIOS
16 Mb Flash ROM , PnP, DMI2.0, WfM2.0, SM BIOS 2.5, ACPI2.0a Multi-Language BIOS
Manageability
WOL by PME,WOR by PME,PXE
Accessories
1 x ROG Connect cable
1 x 3-Way SLI Bridge
1 x SLI Cable
1 x CrossFire Cable
1 x 2-in-1 ASUS Q-Connector Kit
3 x 2-in-1 SATA signal cables
1 x 2-in-1 SATA 6G cables
1 x 2-port USB2.0 + ESATA module
1 x I/O Shield
3 x Thermal Sensor Cable Packs
1 x Cable Ties Pack
1 x ROG theme label
1 x 12-in-1 ROG Cable Label
1 x USB to USB cable for ThunderBolt
2 x Wi-Fi Ring Moving Antenna
1 x Optional NB Fan
Support Disc
Drivers
ASUS PC Probe II
ASUS Update
Kaspersky® Anti-Virus
ASUS TurboV EVO Utility
ASUS AI Suite II
ASUS AI Charger
WiFi Agent
Form Factor
Extended ATX Form Factor
12 inch x 10.6 inch ( 30.5 cm x 26.9 cm )
The product (electrical , electronic equipment, Mercury-containing button cell battery) should not be placed in municipal waste. Check local regulations for disposal of electronic products.
All specifications are subject to change without notice. Please check with your supplier for exact offers. Products may not be available in all markets.
PCB color and bundled software versions are subject to change without notice.
Brand and product names mentioned are trademarks of their respective companies.
More Informations >>Click<<
อัดแน่นกันมาแทบล้นจริงๆครับสำหรับสเป็คต่างๆ ต่อไปเราก็ไปชมหน้าตาส่วนต่างๆของตัวโปรดักส์กันต่อเลยครับ