ECS Starts Shipping New P67/H67 B3 Stepping Chipset Motherboards
ECS Starts Shipping New P67/H67 B3 Stepping Chipset Motherboards
Taipei Taiwan, March 2011-
Responding to Intel begins to supply brand new B3 stepping chipset which solves the performance degradation problem of SATA 3 Gb/s caused by B2 stepping chipset, ECS sincerely announces that all ECS P67/H67 series motherboards would adopt B3 stepping chipset and start being shipped to worldwide from now on. Different regions would have different on-store time according to different shipment procedure.
ECS has been proud of quality of our products; therefore, ECS truly hope users would enjoy these whole new IntelR 6 series chipset motherboards. To indentify new B3 stepping chipset motherboards easily from B2 stepping chipset motherboards, users could indentifythe label on PCBs, which would be between the CPU socket and RAM socket, and outside boxes as the following example pictures show. For more details and information, please visit : http://www.ecs.com.tw/extra/6series/issue/index_b3.html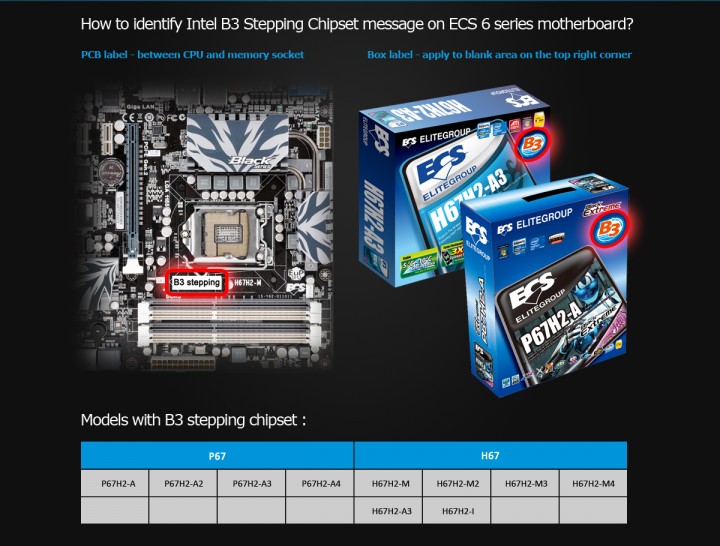 About ECS
The Elitegroup Computer Systems (ECS) has been a pioneer in designing and manufacturing computer motherboards since 1987. Today, the motherboard maker also designs and manufactures desktop PCs, notebooks, servers, motherboards, video cards, wireless solutions and handheld devices for distributors worldwide. Headquartered in Taiwan with operations in North America, Europe and China, Korea and Japan, ECS also has ISO 9001 and ISO 14001 certified manufacturing facilities in China.
For more information, please visit ECS at www.ecs.com.tw.