GIGABYTE GTX 470 SOC Refreshes Overclocking Records
GIGABYTE GTX 470 SOC Refreshes Overclocking Records
GIGABYTE GeForceTM GTX 470 is the number one in graphics benchmarks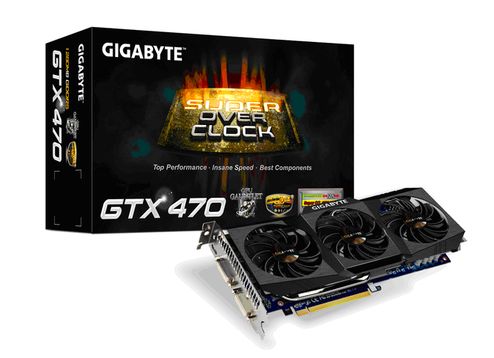 Taipei, Taiwan, 2 December, 2010 - GIGABYTE, a leading manufacturer of motherboards and graphics cards, is pleased to announce a world record of single GPU 34520 3DMark Vantage score with GIGABYTE's GTX 470 SOC (GV-N470SO-13I) graphics cards in graphics card overclocking records. Currently, the number one GTX 470 world record of single GPU in 3DMark Vantage is created with GIGABYTE's very own Super Overclock Series GTX 470 SOC. GIGABYTE also congratulates overclocker Hero for his outstanding scores.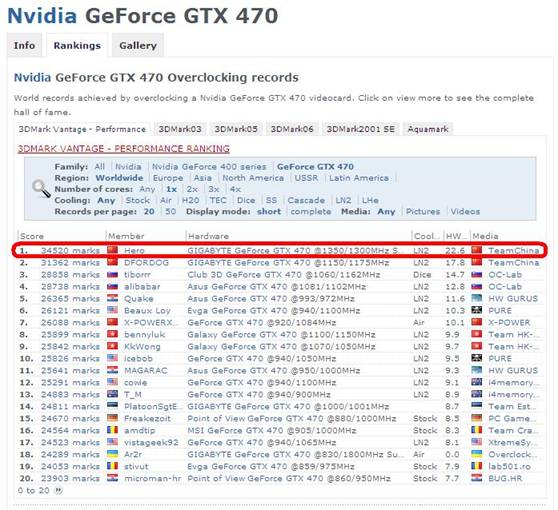 TOP 20 WORLD RECORDS OF SINGLE GPU IN 3DMARK VANTAGE
Data collected as of December 2nd, 2010
Data source: http://hwbot.org/hardware/videocard/geforce_gtx_470?tab=rankings
GIGABYTE GTX 470 SOC

(GV-N470SO-13I)

The world record breaker:

Best Performance card in GTX 470 Series

Pure Power Architecture - 14 Phase PWM design

WINDFORCETM 3X - Anti-Turbulence Triple Fan

Voltage Read Point Design

OC Guru graphics card smart tuner
For more details of GIGABYTE GV-N470SO-13I, please visit the GIGABYTE VGA website:
http://www.gigabyte.com/products/main.aspx?s=43
Facebook: http://www.facebook.com/pages/GIGABYTE-VGA/138376338834?ref=nf
Twitter: http://twitter.com/GIGABYTE_VGA
About GIGABYTE Upgrade Your Life
GIGABYTE, headquartered in Taipei, Taiwan, is known as a global leading brand in the IT industry, with employees and business channels in almost every country. Founded in 1986, GIGABYTE started as a research and development team and has since taken the lead in the world's motherboard market. On top of motherboards and graphics accelerators, GIGABYTE further expanded its product portfolio to include notebook and desktop PCs, digital home entertainment appliances, networking servers, communications, mobile and handheld devices, servicing every facet of people's lives at home or business. Everyday GIGABYTE aims to "Upgrade Your Life" with the most innovative designs and impeccable quality and services. Visit www.gigabyte.com for more information.