GIGABYTE Introduces GeForce® GTX 570 Graphics Cards
GIGABYTE Introduces GeForce® GTX 570 Graphics Cards
– Performance Boost with 480 CUDA Cores –



Taipei, Taiwan, 8 December, 2010 -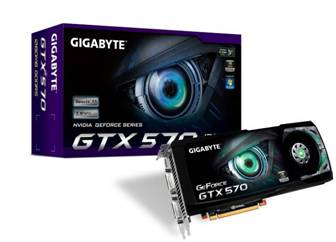 GIGABYTE Technology Co. LTD., a leading manufacturer of motherboards and graphics cards, is pleased to introduce new premium graphics card, GV-N570D5-13I-B. GV-N570D5-13I-B is equipped with the latest NVIDIA® 40nm process GeForce® GTX 570 GPU with 480 CUDA cores and GDDR5 high speed memory technology. GV-N570D5-13I-B has screaming performance boost compared with GTX 470 and runs much quieter and cooler due to innovative thermal technology. Supporting DirectX 11, GV-N570D5-13I-B provides incredibly detailed gaming environment with great tessellation performance.
GV-N570D5-13I-B also supports NVIDIA® Surround, 3D VisionTM, PhysX® , and SLI® to satisfy all heavy gamers' gaming demands.
Compared with former generation GTX 470, GV-N570D5-13I-B improves GPU architecture and has 480 CUDA cores to provide best gaming performance. Supporting NVIDIA® Surround, 3D VisionTM Surround and SLI® technology, gamers can enjoy realistic 3D games, videos, and photos across three displays. By introducing innovative vapor chamber thermal design, GV-N570D5-13I-B can run all games quieter under a silent environment. GV-N570D5-13I-B also includes NVIDIA® PhysX®, CUDATM, and PureVideo® HD technologies to guarantee best dynamic and realistic gaming interactions.
For more details of GIGABYTE GV-N570D5-13I-B, please visit the GIGABYTE VGA website:
http://www.gigabyte.com/products/main.aspx?s=43
About GIGABYTE Upgrade Your Life
GIGABYTE, headquartered in Taipei, Taiwan, is known as a global leading brand in the IT industry, with employees and business channels in almost every country. Founded in 1986, GIGABYTE started as a research and development team and has since taken the lead in the world's motherboard market. On top of motherboards and graphics accelerators, GIGABYTE further expanded its product portfolio to include notebook and desktop PCs, digital home entertainment appliances, networking servers, communications, mobile and handheld devices, servicing every facet of people's lives at home or business. Everyday GIGABYTE aims to "Upgrade Your Life" with the most innovative designs and impeccable quality and services. Visit www.gigabyte.com for more information.