GIGABYTE Officially Launches Aivia M8600 Wireless Macro Gaming Mouse 100-hour battery, wireless gaming nirvana
GIGABYTE Officially Launches Aivia M8600 Wireless Macro Gaming Mouse
100-hour battery, wireless gaming nirvana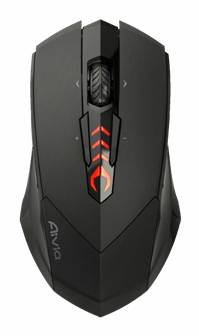 Taipei, Taiwan, March 28, 2011 - GIGABYTE, a leading manufacturer of motherboards and graphics cards, is proud to extend its AiviaTM peripheral series with M8600 Wireless Macro Gaming Mouse. The first product from GIGABYTE's highly anticipated AiviaTM series, AiviaTM K8100 Gaming Keyboard, has recently received prestigious red dot design award. The second product to be launched under AiviaTM, M8600 Wireless Macro Gaming Mouse, is the world's first wireless gaming mouse to guarantee 100-hour nonstop gaming experience. Plus, it also consists of a wide range of state-of-the-art features, including two-second quick-swap battery system (patent pending), multi-functional charging dock, twin-eye gaming-grade laser engine, and GHOSTTM macro engine technology.
Aivia - Advanced, Intuitive, and Versatile Interface Archetype
Adding to the already popular gaming device, GIGABYTE first announced its brand new Aivia product line at 2010 Computex. Aivia, an integrated acronymic word, is derived from its key features - advanced, intuitive, and versatile interface archetype. The series is to emphasize the combination of the subconscious, design and function as well as the pursuit of archetype. GIGABYTE believes each mouse and keyboard are the scrupulous work of mankind's brainpower. Aivia is not only an extension to the human intellect, but also an intuitive extension to the use of artificial intelligence. For that reason, Aivia can also be interpreted as the AI via GIGABYTE.

Aivia K8100 Gaming KeyboardAiviaTM K8100 Gaming Keyboard is the company's first red dot award winner. The keyboard has been honored for its exceptional design achievements in the prestigious international design competition, with over 4,000 contestants from over 40 countries worldwide. Winning the 2011 red dot award signifies a label of the highest quality and international repute guaranteed by Germany's Design Zentrum
Especially designed for gamers, AiviaTM K8100 is equipped with four major features. Enhanced Ergonomic Gaming Keyboard Design is world's 1st gaming keystroke keyboard with three different built-in keystroke forces, 70 grams, 60 grams and 50 grams. GHOSTTM Macro Engine is an incredible macro editing software for the memorized macros to be carried around even if the keyboard is connected to a different computer. 20 anti-ghosting keys allow gamers to press up to 20 simultaneous buttons without the "ghosting" effect. Touch and slide volume control allows gamers to adjust volume by finger. With these four features, obtaining victory during gaming battles is no sweat.
For more details of PC Peripheral products, please visit the GIGABYTE website at: http://www.gigabyte.com.tw/Products/Peripherals/Default.aspx
Facebook: http://www.facebook.com/pages/GIGABYTE-VGA/138376338834?ref=nf
Twitter: http://twitter.com/GIGABYTE_VGA
About GIGABYTE Upgrade Your Life
GIGABYTE, headquartered in Taipei, Taiwan, is known as a global leading brand in the IT industry, with employees and business channels in almost every country. Founded in 1986, GIGABYTE started as a research and development team and has since taken the lead in the world's motherboard market. On top of motherboards and graphics accelerators, GIGABYTE further expanded its product portfolio to include notebook and desktop PCs, digital home entertainment appliances, networking servers, communications, mobile and handheld devices, servicing every facet of people's lives at home or business. Everyday GIGABYTE aims to "Upgrade Your Life" with the most innovative designs and impeccable quality and services. Visit www.gigabyte.com for more information.