KINGMAX เปิดตัว PD-03 แฟลชไดร์ฟสุดอินเทรนด์รุ่นใหม่ล่าสุด
KINGMAX  เปิดตัว PD-03 แฟลชไดร์ฟสุดอินเทรนด์รุ่นใหม่ล่าสุด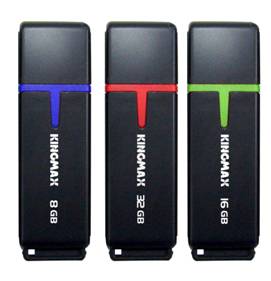 KINGMAX, the world renowned memory brand, has recently launched PD-03, a flash drive that is both compact and easy-on-the-go. Black exterior accentuated by 3 different colors: green (2GB/16GB), red (4GB/32GB), blue (8GB) to create a simple yet sophisticated look. PD-03 also features a thoughtful design that keeps the cap attached to the end. Whether it is for storing or sharing digital multimedia files, PD-03 is undeniably the best data storage pal.
KINGMAX PD-03 weighs merely 9 grams but comes with large capacities of up to 32GB. Whether it is for storing photos, movie, music or documents, with PD-03 all data can be transferred or stored quickly and easily. Moreover, there's no need for driver or complex installation; just plug and play and files and entertainment are on-the-go.
As for its exterior, PD-03 is crafted with matte black as a base color and a fine texture finish to reduce fingerprint contamination. Attach a string to the niche at PD-03's tail it becomes an easy-to-carry accessory. Various colors highlight the simple T line design to create a simple and refined look. For professionals or students who prefer simple and composed style, PD-03 is definitely the best digital accessory.
PD-03 complies with multinational standards such as RoHS, CE, FCC, as well as Microsoft Windows 7 certification. Compatibility of PD-03 with major OS is guaranteed. KINGMAX is proud to say all of its products are subjected to the most stringent quality control; all products go through rigorous testing to ensure the highest quality. PD-03 comes with warranty to provide 100% satisfaction guarantee to customers.
Product features:
‧        Unique design that prevents cap from accidental drop-offs or loss
‧        Light and compact, a perfect portable device.
Product Specifications:
‧        Storage Capacity/Color : 2GB/Green, 4GB /Red, 8GB /Blue, 16GB/Green, 32GB/Red
‧        Dimensions: 60mm(length) x 17mm(width) x 8mm(height)
‧        Weight: 9g
‧        USB2.0
‧        Windows 7 certified
‧        Complies with RoHS, CE, FCC
‧        5 years warranty
【About KINGMAX】
KINGMAX Group is the world's first RAM/memory card module manufacturer that features vertical industrial integration capabilities and solid R&D capability and innovative cutting-edge patented technology. Upholding "Quality comes from perfection in technology", KINGMAX insists on and endeavors for continual innovation. Its faith in its unique products ensures they continue to take the world by storm. In addition, all KINGMAX products undergo rigorous testing before delivery to ensure the best quality. Lifetime warranty services are also provided so you can set your mind at rest when buying the products. For more information, visit the official website of KINGMAX: www.kingmax.com