MSI G62 GL62 6QF with GeForce GTX960M Review : Introduction (1/6)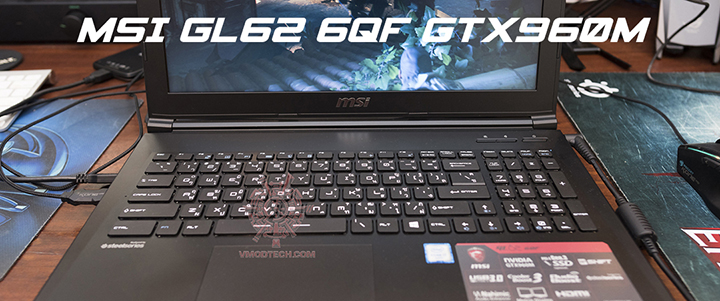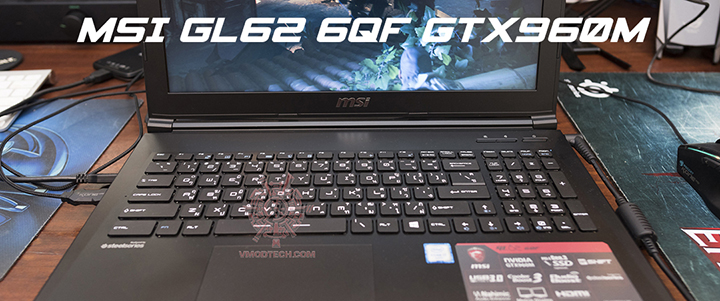 สวัสดีครับ วันนี้กลับมาพบกับรีวิวโน๊ตบุ๊คกันอีกครั้งจากแบรนด์ MSI ซึ่งรุ่นนี้นั้นเป็นอีกรุ่นที่อยู่ในระดับเริ่มกลางๆ สเปกพอใช้งานทั่วๆไปรวมถึงจะเล่นเกมส์เบาๆก็ย่อมได้เช่นกัน ซึ่งจุดเด่นของตัว MSI GL62 6QF ที่เรากำลังจะพูดถึงนี้ก็คือรูปร่างหน้าตาและวัสดุที่ออกแบบมาครับ รายละเอียดของตัว Hardware นั้นหลักๆก็จะมีดังนี้
.
6th Gen. Intel® Core™ i7 processor
GeForce® 960M graphics with higher performance
15.6" Full HD (1920x1080), 94%NTSC wide-view panel
USB 3.0 Type-C reversible plug
Nahimic Sound Technology delivering 360⁰ immersive audio experience
Audio Boost enhancing the gaming headset sound detail and sound stage
Matrix Display supporting 4K output up to 2 external monitors
Keyboard by Steelseries with better tactile feedback
.
.