MSI GL62M 7REX Review : Introduction (1/9)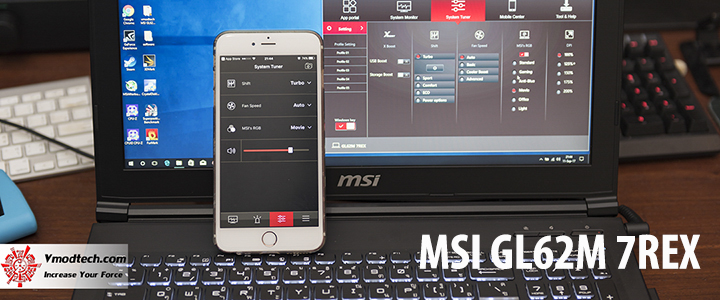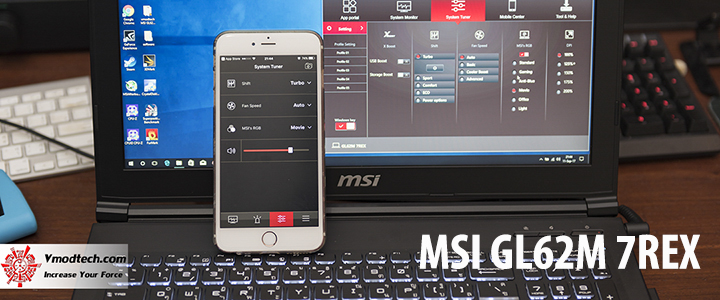 สวัสดีครับ พบกับรีวิวโน๊ตบุ๊คกันอีกครั้งครับ โน๊ตบุ๊คตัวนี้เป็นรุ่นเล็กๆชื่อรุ่นว่า MSI GL62M 7REX ซึ่งองค์ประกอบภายในนั้นได้ถูกคัดสรรมาให้เพียงพอต่อการใช้งานและเล่นเกมส์ที่ความละเอียดระดับปานกลางบนเรสโซลูชั่น Full HD ด้วยกราฟฟิกการ์ด NVIDIA GeForce GTX 1050 Ti และเลือกใช้ CPU เบอร์ใหญ่ Core i7 7700HQ ติดตั้งแรม DDR4 ขนาด 8 กิ๊กกะไบท์บัส 2400 MHz มาให้ โดย Storage ที่่ติดตั้งมาให้นั้นจะเป็น HDD สำหรับเก็บข้อมูลขนาด 1 เทอราไบท์ที่มีรอบการหมุนที่ 7200 รอบต่อนาที สเปกและรายละเอียดอื่นๆจะเป็นอย่างไรตามมาเลยครับ
....
สำหรับรายละเอียดของอุปกรณ์ภายในนั้นก็จะมีดังนี้
Latest 7th Gen. Intel® Core™ i7 processor
Latest GeForce® GTX 1050 Ti 2GB GDDR5 with desktop level performance
15.6" Full HD (1920x1080), IPS level panel (Optional)
15.6" Full HD (1920x1080), 94%NTSC wide-view panel(Optional)
Exclusive Cooler Boost 4 Technology
The X Boost function from MSI technology supports faster storage access speed.
Dragon Center provides six functions to get a total control of your personal computer
WTFast free premium license for 2-month
NVMe M.2 SSD by PCIe Gen3 X4 up to 2200MB/s speed(optional)
USB Type-C reversible plug
Exclusive SHIFT technology boosts performance under controlled noise & temperature
Nahimic Sound 2 Technology delivering 360⁰ immersive audio experience
Audio Boost enhancing the gaming headset sound detail and sound stage
Keyboard by Steelseries with single color backlighting
Exclusive Silver Lining Printed keys
Matrix Display supporting 4K output up to 2 external monitors
.
.