MSI GS73VR 6RF Stealth Pro with GeForce GTX 1060 Review : Introduction (1/11)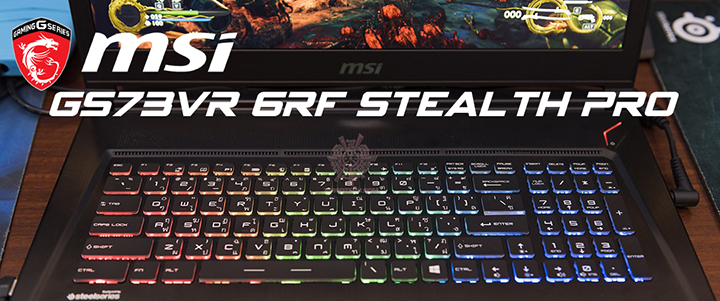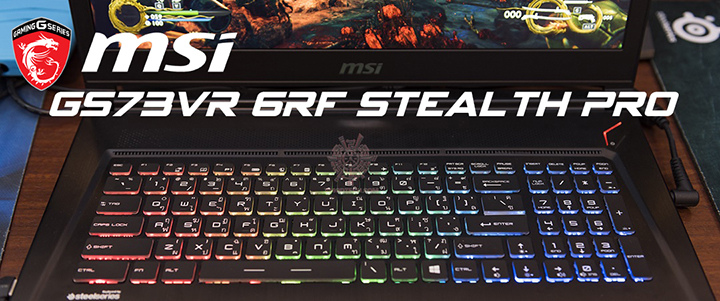 สวัสดีครับ วันนี้กลับมาพบกับรีวิวโน๊ตบุ๊คกันอีกครั้งจากแบรนด์ MSI ซึ่งรุ่นนี้นั้นเป็นตัวแรงระดับกลางที่พร้อมเล่นเกมส์ระดับ HIGH บนจอ Full HD ได้อย่างลื่นไหลสุดๆ ครับ เรากำลังพูดถึง MSI GS73VR 6RF Stealth Pro ตัวเกมส์มิ่งโน๊ตบุ๊คตัวนี้นั้นได้ติดตั้ง CPU Intel Core i7 6700HQ แรมแบบ DDR4 bus 2400 MHz ตัวละ 8 กิ๊กกะไบท์มาให้สองตัว ทำงานแบบ Dual Channel กราฟฟิกการ์ดติดตั้ง NVIDIA GeForce GTX 1060 ที่มีแรมมาให้ 6GB ด้าน Storage นั้นเป็น SSD แบบ M.2 NVMe ขนาด 128GB สำหรับติดตั้ง Windows และยังมี HDD ขนาด 1TB อีกหนึ่งตัวสำหรับลงโปรแกรมและเกมส์ต่างๆด้วย เรามาชมรายละเอียดของมันเลยครับ
.
สำหรับรายละเอียดของอุปกรณ์มหาโหดภายในนั้นก็จะมีดังนี้
Windows 10 Home / Windows 10 Pro
Intel® Core™ i7 6700HQ processor
GeForce® GTX 1060 6GB GDDR5 with desktop level performance
17.3" Full HD (1920x1080)
Exclusive Cooler Boost Trinity Technology
The X Boost function from MSI technology supports faster storage access speed.
Dragon Center provides six functions to get a total control of your personal computer
WTFast free premium license for 2-month
NVMe M.2 SSD by PCIe Gen3 X4 up to 2200MB/s speed(optional)
Thunderbolt™ 3 supporting 40Gbps ultra speed data transfer rate, dual 4K monitor output, and portable charging power up to 5V/3A (optional)
USB Type-C reversible plug
Exclusive SHIFT technology boosts performance under controlled noise & temperature
Nahimic 2 Sound Technology delivering 360⁰ immersive audio experience
True Color Technology for increased color contrast and greater image detail
Keyboard by Steelseries with full color backlighting
SteelSeries Engine 3 with GameSense to personalize your play style
Exclusive Silver Lining Printed keys
Killer DoubleShot Pro (Killer Gb LAN + Killer 802.11 a/c WiFi) with Smart Teaming
Upgraded Killer Gigabit LAN Controller with Advanced Stream Detect 2.0 and Killer Shield
Xsplit Gamecaster free premium license for 1 year
Matrix Display supporting surround mode and 4K output up to 3 external monitors
Brushed-metal lid and aesthetics line design imprinted with MSI iconic Dragon Tatoo, unleashing the true dragon gaming soul
.
อัดแน่นไปด้วยคุณสมบัติต่างๆมากมายจริงๆครับโน๊ตบุ๊คตัวนี้