MSI GT75VR 7RE Titan Review : Introduction (1/9)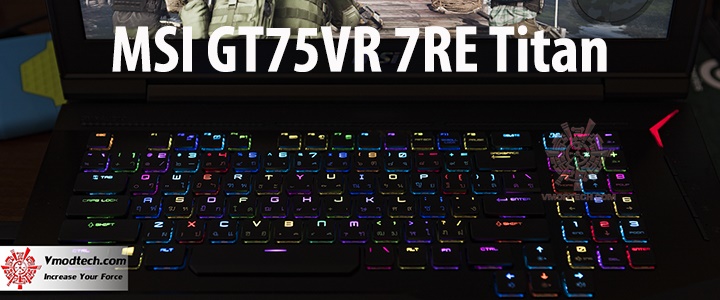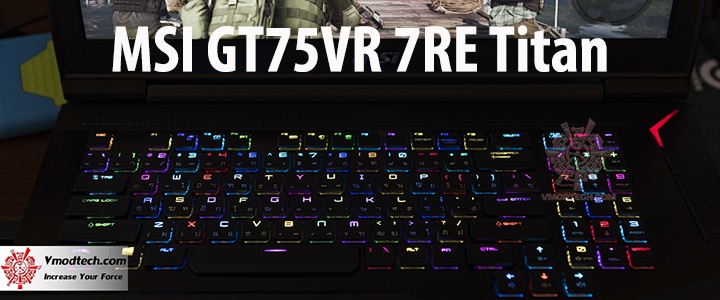 สวัสดีครับ พบกับรีวิวโน๊ตบุ๊คกันอีกครั้งครับ โน๊ตบุ๊คตัวนี้เป็นรุ่นที่น่าสนใจมากตัวนึงมันเป็นเกมส์มิ่งโน๊ตบุ๊คที่ออกแบบมาเพื่อเล่นเกมส์โหดๆแห่งยุคด้วยกราฟฟิกการ์ดรุ่นใหญ่ NVIDIA GeForce GTX 1070 และเลือกใช้ CPU เบอร์ใหญ่ Core i7 7700HQ ติดตั้งแรมขนาด 16 กิ๊กกะไบท์แบบ DDR4 บัส 2400 MHz มาให้ โดย Storage ที่่ติดตั้งมาให้นั้นจะเป็น SSD แบบ M.2 PCIe Gen3 x4 ที่คอนฟิกแบบ Raid0 ความจุ 238GB มาให้ และก็ยังมี HDD สำหรับเก็บข้อมูลขนาด 1 เทอราไบท์ที่มีรอบการหมุนที่ 7200 รอบต่อนาที โห สเปกแรงมากครับ ครับ เรากำลังพูดถึง MSI GT75VR 7RE Titan สเปกและความแรงจะเป็นอย่างไรตามมาเลยครับ
....
สำหรับรายละเอียดของอุปกรณ์ภายในนั้นก็จะมีดังนี้
Latest 7th Gen. Intel® Core™ i7 processor
Windows 10 Home / Windows 10 Pro
Latest GeForce® GTX 1070 8GB GDDR5 with desktop level performance
Rapid Mechanical RGB Keyboard by SteelSeries with faster than ever reaction
Per-Key RGB Backlight customization with SteelSeries Engine 3
World's 1st Killer Multi GIG brings perfection gaming internet solution
17.3" Full HD (1920x1080), 120 Hz Refresh Rate and 3ms response time panel (Optional)
17.3" built-in 4K LCD with 3840 X 2160 resolution and 100% Adobe RGB (optional)
Exclusive Cooler Boost Titan Technology
Exclusive Super RAID 4 (Dual NVMe M.2 SSDs by PCIe Gen3 X4 in RAID 0) (optional)
Thunderbolt™ 3 supporting 40Gbps ultra speed data transfer rate, 4K@60Hz monitor output, and portable charging power up to 5V/3A with USB Type-C universal plug
Easy Overclocking with MSI SHIFT Technology by Dragon Center (optional)
Exclusive ESS SABRE HiFi DAC for lossless, high-quality audio
Nahimic 2+ & Nahimic VR Sound Technology delivering 360⁰ immersive audio experience
Sound by Dynaudio system
True Color 2.0 Technology for increased color contrast and greater image detail
The X Boost function from MSI technology supports faster storage access speed.
Dragon Center provides six functions to get a total control of your personal computer
WTFast free premium license for 2-month
XSplit Gamecaster free premium license for 1 year
Matrix Display supporting surround mode and 4K output up to 3 external monitors
The Ultimate Sci-Fi Inspired Gaming Aesthetics
.

.