BIOSTAR TPower X58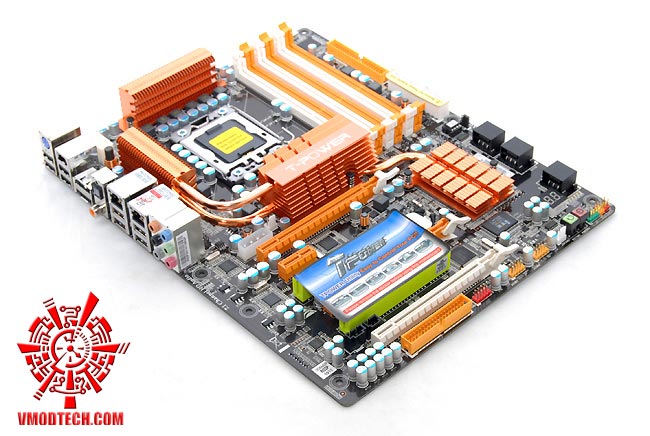 .
.
…สวัสดีครับ วันนี้ผมขอนำมาเธอร์บอร์ดแบรนด์อินดี้ แต่ความสามารถไม่ธรรมดาอย่างBiostar มารีวิวเล็กๆน้อยๆให้ทุกๆท่านได้ชมกันนะครับ โดยคราวนี้มากันในฟอร์มยักษ์กับแพลตฟอร์มที่ถือว่าแรงที่สุดในโลกตอนนี้อย่าง Intel Core i7 ซึ่งจะเป็นมาเธอร์บอร์ดที่ใช้ชิปเซตอื่นใดไปไม่ได้นอกจาก X58 ซึ่งBiostar มาคราวนี้จะมาในชื่อรุ่น TPower X58 ครับ ไปชมรายละเอียดคร่าวๆ เด่นๆ ของตัวมาเธอร์บอร์ดกันก่อนเลยนะครับ
.
Design for Intel socket 1366 Nehalem Core i7 Extreme/ Core i7 45nm processors
Intel X58 / ICH10R Chipset
12 Phases Power Design
Support 6-DIMM DDR3-1866(OC)/1600(OC)/1333(OC) up to 24G maximum capacity
Support ATI CrossfireX and nVidia SLI Technology
100% X.D.C Japanese solid capacitor
BIOSTAR Space-Pipe with high efficiency copper heat-pipe
BIOSTAR G.P.U (Green Power Utility) Technology for Energy Saving
BIOSTAR TPower Utility
On board Dual GbE
1394a, eSATA, S/PDIF Out (Optical/Coaxial)
Exclusive Features

12 Phase Power Phase Design

12-phase VRM design with high quality power components such as low RDS (on) MOSFETs for lower temperatures, Ferrite core chokes with lower hysteresis loss, and high quality Japanese-made solid capacitors all add up to ensure longer system life and lower power loss.

2 Phase Memory Power Design

2-phase independent power design to increase memory voltage stability and durability.

High efficiency thermal solutionSpace-Pipe

The new Space-pipe design effectively directs the heat generated by the chipsets to the heatsink near the back I/O ports - where it can be carried away by existing airflows from the CPU fan. This innovative fanless heat pipe design effectively lowers temperatures by up to 10°C without having lifetime problems that a normal chipset fan has.

100% Solid Caps

Armour plated Biostar Technology, all the capacitors have been put with 100% Solid Capacitors , providing linger lifecycle, durability and stability for the crucial components.

BIOSTAR "GPU" Technology

BIOSTAR G.P.U (Green Power Utility) is a new function, it will enhance energy efficiency by disabling extra phases while CPU on light loading. It integrated a friendly GUI to monitor what's your CPU resourcing, response and optimized the power saving on your system. Such as Heavy 3D Gaming, Internet or MSN charting, G.P.U will always arrange the best power efficiency in your system.

Chipset-CPU Features

Intel X58 chipset

The Intel® X58 Express Chipset supported the latest Intel® Core™ i7 Processors using QuickPath Interconnect (QPI) ,with amazing impress by point-to-point links, provide more stability and bandwidth enhancement , up to 36 PCI-Express 2.0 lanes , it also enable the nVidia® SLI technology and ATI CrossFireX™ technology on the same motherboard.

Intel Core™i7 Processor support

Core i7 is the first Intel 45nm CPU processors family using Intel Nehalem micro architecture in LGA1366 package. It integrated with memory controller support Triple-channel with six DIMM slots DDR3 memory.
It included 8MB L3 cache and supported Intel® QuickPath Interconnect (QPI) with system bus up to 6.4GT/s and reach the maximum bandwidth of up to 25.6GB/s.

3-Channel DDR3

Tpower X58 supports 6 DIMM Slots DDR3 memory that features data transfer rates of DDR3 1866(O.C.)/1600/1333/1066 .As the Core i7 supported 3 memory channels, and the channel speed can be selected by setting the memory multiplier, It will obviously uplift the bandwidth and boost the overall system performance.

NVIDIA SLI Technology
Supported nVidia SLI GPU : NVIDIA GeForce 9800 GX2 / GeForce 9800 GTX/9800 GTX+ / GeForce GTX 260 / GeForce GTX 280

The advanced NVIDIA® SLI® technology on intel platform. Tpower X58 deliver the best gaming performance. Experienced the fastest performance imaginable on new killer gaming machines. Surround yourself with amazing 3D performance, breathtaking physical effects, and accelerate your most performance hungry applications.

ATI CrossFire X™ Technology

ATI CrossFireX™ is the ultimate multi-GPU performance gaming platform. Enabling game-dominating power, ATI CrossFireX technology enables two or more discrete graphics processors to work together to improve system performance. It supporting up to four ATI Radeon™ HD graphics cards, making this the most scalable gaming platform ever!

PCI Express 2.0 Support

PCI Express 2.0 bus architecture is offering a future-proofing bridge to tomorrow's most bandwidth-hungry games and 3D applications by maximizing 5 GT/s of bandwidth. PCI Express 2.0 motherboards are fully backwards compatible with existing PCI Express products for broad support of PC peripherals.

eSATA

TWO external SATA 3Gb/s ports connectivity with minimal host overhead and host to device latency.

IEEE1394 on board

IEEE 1394a is a serial bus interface for high-speed communication and data transfer. Major applications are in Desktop and digital Video/Audio and some portable device.

S/P DIF Output on board

On board Optical & Coaxial connector supported your desktop to transfer the non-distortion digital audio output to AV amplifier and professional speaker system.

BIOS-Software Features

BIO-Flasher

Effortlessly update BIOS from a USB flash disk before entering your OS.
BIO-FLASHER is a convenient BIOS update tool. Just launch this tool and put the BIOS on USB Pen Driver before entering the OS. You can update your BIOS only in a few clicks without preparing an additional floppy diskette or other complicated flash utility.

BIO-ReLife

BIO-ReLife Technology let you to resume crushed BIOS data from a USB flash Pen Driver that put the new BIOS file. This considerate BIOS utility can restore your system and far from the BIOS Crush situation.

BIOScreen Utility

Personalize your desktop with customizable boot logo. BIOScreen is the new feature in TPOWER X58 motherboard that let your realize personalization and create your owned style to shown the customizable and lively boot logo.

eHot-Line

Integrated e-service, it automatically sends your technical support request to Biostar Globe tech support without delay.

OC-Tweaker

Dynamic OC and 1-click for BIOSTAR MB and BIOSTAR V-Ranger Graphics card functions.

BIO-WATCH

Monitoring the MB and VGA status also the Fuzzy CPU FAN control

Biostar Flash

1-click BIOS update under Windows interface

Other Features

Rapid Switch 2

Engineering by BIOSTAR, the exquisite on board switches provide you easily to shut down and restart your system.

Rapid Debug 3

Rapid Debug3 posts critical POST code information in an digit LED display. When system malfunction occurs, it will auto detects what's the device failure and translates the errors code on the digit LED. It also shows the CPU temperature on the same screen.

Tweak Tech

Biostar owned unique engineering PWM layout with low ESR and high ripple conductive solid state caps to provide sufficient, stable power supply to the CPU. And the same philosophy applies to our DDR design to enhance voltage stability
ถ้าแปลไม่ออกตรงไหนให้ไปลองถามท่านเบียร์ดูนะครับ และเมื่อเห็นความสามารถต่างๆอันมากมายของตัวบอร์ดแล้ว  ต่อไปเราก็ไปดูรูปร่างหน้าตากันต่อดีกว่าครับ
.