GIGABYTE GA-890GPA-UD3H AMD 890GX Chipset Review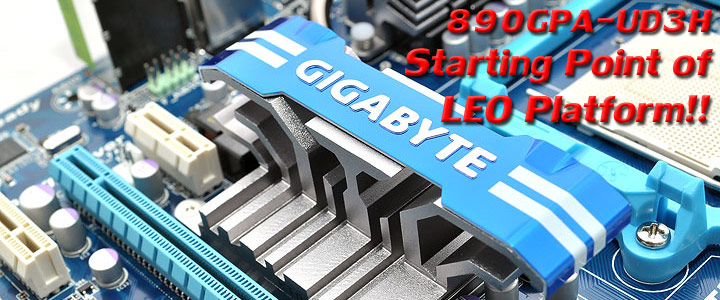 …สวัสดีครับ สำหรับในวันนี้ก็เป็นวันเปิดตัวเมนบอร์ดที่ใช้ชิปเซต 890GX+SB850 ของทาง AMD ทางเรา Vmodtech.com ก็มีเมนบอร์ดที่ใช้ชิปเซตนี้มาฝากบรรดาแฟนานุแฟนของ AMD กันหนึ่งรุ่นนะครับ โดยคราวนี้จะมากันในแบรนด์ GIGABYTE ที่มากันในรุ่น GA-890GPA-UD3H เพื่อไม่ให้เป็นการเสียเวลาไปดูสเป็คต่างๆคร่าวๆของตัวชิปเซตนี้กันก่อนเลยนะครับ
.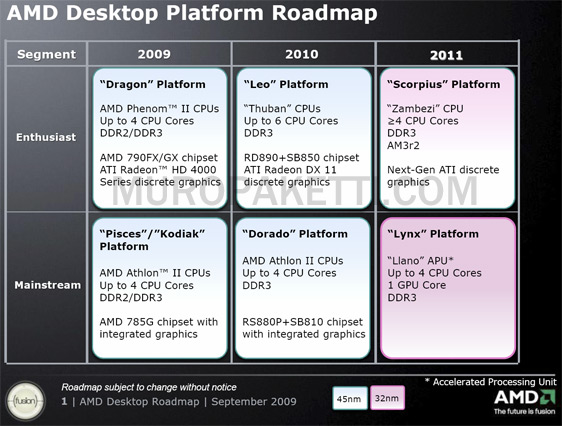 …ชิปเซต AMD 890GX+SB850 จะอยู่ใน Platform ใหม่ ของทาง AMD ที่จะมีชื่อใหม่ว่า "Leo" โดยจุดประสงค์หลักของ Platform นี้ คือการออกมารองรับ ซีพียู 6คอร์ นั่นเองครับ โดยตัวซีพียู 6คอร์ ก็จะมีกำหนดการวางตลาดประมาณเดือน 5 ของปีนี้ แต่ตัวเมนบอร์ดจะมีการเปิดตัวออกมาก่อนในวันนี้นั่นเองครับ แต่ก็ไม่ใช่ว่าซีพียู 6คอร์จะใส่กับบอร์ดที่ใช้ชิปเซตเก่าไม่ได้นะครับ ใส่ได้เหมือนกัน แต่คงต้องอัพเดตไบออสก่อน เพื่อให้เมนบอร์ดรู้จักกับตัวซีพียูนั่นเองครับ
.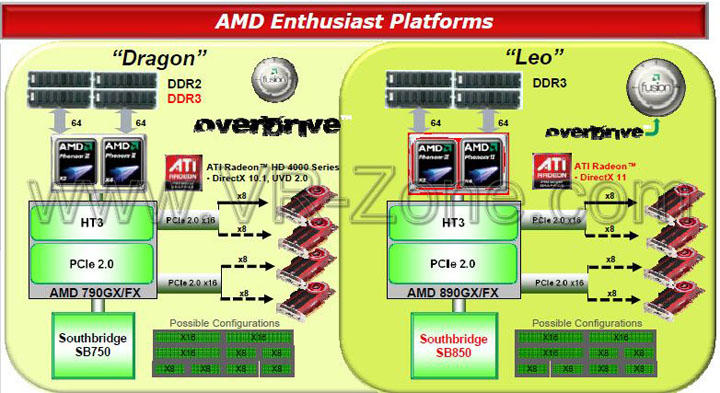 ส่วนเรื่องชิปเซตใหม่ AMD 890GX+SB850 จะมีอะไรใหม่เพิ่มเติมจากรุ่นเก่า ผมขอกล่าวโดยสรุปเลยนะครับดังต่อไปนี้
กราฟฟิคออนบอร์ดรุ่นใหม่ HD 4290 ที่ซัพพอร์ต DX10.1 และ UVD2 มีความเร็วในการทำงานเริ่มต้นที่สูงถึง 700/1,333MHz
ได้มีการยกเลิกซัพพอร์ต DDR2 โดยถาวรกับชิปเซตนี้ นั่นก็หมายความว่าเราจะเห็นชิปเซตนี้ บนเมนบอร์ด Socket AM3 เพียงเท่านั้น
Southbridge SB850 จะซัพพอร์ต SATA3 6Gbps และสามารถใส่ USB2.0/1.1 ได้มากขึ้นจาก SB750 รุ่นเก่าที่มี 12Ports เป็น 14Ports
ต่อไปเราก็ไปดูสเป็คต่างๆของตัวเมนบอร์ดที่เราจะทดสอบกันในวันนี้ ต่อกันไปเลยนะครับ
.
GIGABYTE GA-890GPA-UD3H
AMD 890GX + SB850 Chipset
Ultra Durable 3 Classic Technology with copper cooled quality for lower working temperature
Revolution energy saving design with Easy Energy Saver technology
Supports newest NEC SuperSpeed USB 3.0 with superfast transfer rates of up to 5 Gbps
3X USB power delivery for greater compatibility and extra power for USB devices
AMD SB850 provides native SATA3 storage interface with superfast 6Gbps link speed
Supports AMD AM3 Phenom II/ Athlon II processors
Dual Channel DDR3 1866+ for remarkable system performance
Built-in a 128MB DDR3 Sideport Memory for accelerating graphics performance
Integrated ATI Radeon HD 4290 graphics (DirectX10.1)
2 PCI-E 2.0 x16 interface with ATI CrossFireX/ Hybrid CrossFireX technology support
Supports Dolby Home Theater audio to enjoy a rich surround sound experience
Integrated HDMI/ DVI interface for Full HD 1080 Blu-ray playback with HDCP
Compatible with Window 7 to deliver the best operation experience
Meet European Union EuP(Energy-using Products) requirement
.
Specifications
CPU

Support for Socket AM3 processors: AMD PhenomTM II processor / AMD AthlonTM II processor

Hyper Transport Bus

5200 MT/s

Chipset

North Bridge: AMD 890GX
South Bridge: AMD SB850

Memory

4 x 1.5V DDR3 DIMM sockets supporting up to 16 GB of system memory (Note 1)
Dual channel memory architecture
Support for DDR3 1866(OC)/1333/1066 MHz memory modules
Support for non-ECC memory modules

Integrated Memory

128MB DDR3 SidePort memory

Onboard Graphics
Integrated in the North Bridge:

1 x D-Sub port
1 x DVI-D port (Note 2)(Note 3)
1 x HDMI port (Note 3)

Audio

Realtek ALC892 codec
High Definition Audio
2/4/5.1/7.1-channel
Support for Dolby Home Theater
Support for S/PDIF In/Out
Support for CD In

LAN

1 x Realtek 8111D chip (10/100/1000 Mbit)

Expansion Slots

1 x PCI Express x16 slot, running at x16 (PCIEX16) (Note 4)
1 x PCI Express x16 slot, running at x8 (PCIEX8) (Note 4)
(The PCIEX16 and PCIEX8 slots support ATI CrossFireX and ATI Hybrid CrossFireX technologies, and conform to PCI Express 2.0 standard.)
3 x PCI Express x1 slots
2 x PCI slots

Storage Interface
South Bridge:

6 x SATA 6Gb/s connectors 6 supporting up to 6 SATA 6Gb/s devices
Support for SATA RAID 0, RAID 1, RAID 5, RAID 10, and JBOD

GIGABYTE SATA2 chip:

1 x IDE connector supporting ATA-133/100/66/33 and up to 2 IDE devices
2 x SATA 3Gb/s connectors supporting up to 2 SATA 3Gb/s devices
Support for SATA RAID 0, RAID 1, and JBOD

iTE IT8720 chip:

1 x floppy disk drive connector supporting up to 1 floppy disk drive

USB
Integrated in the South Bridge:

Up to 14 USB 2.0/1.1 ports (6 on the back panel (Note 5), 8 via the USB brackets connected to the internal USB headers)

NEC D720200F1 chip:

Up to 2 USB 3.0 ports on the back panel

IEEE 1394
T.I. TSB43AB23 chip:

Up to 3 IEEE 1394a ports (1 on the back panel, 2 via the IEEE 1394a bracket connected to the internal IEEE 1394a header)

Internal I/O Connectors

1 x 24-pin ATX main power connector
1 x 8-pin ATX 12V power connector
1 x floppy disk drive connector
1 x IDE connector
6 x SATA 6Gb/s connectors
2 x SATA 3Gb/s connectors
1 x CPU fan header
2 x system fan header
1 x power fan header
1 x front panel header
1 x front panel audio header
1 x CD In connector
1 x S/PDIF In header
1 x S/PDIF Out header
2 x IEEE 1394a header
4 x USB 2.0/1.1 headers
1 x serial port header
1 x clearing CMOS jumper

Back Panel Connectors

1 x PS/2 keyboard port or PS/2 mouse port
1 x D-Sub port
1 x DVI-D port (Note 2)(Note 3)
1 x HDMI port (Note 3)
1 x optical S/PDIF Out connector
4 x USB 2.0/1.1 ports
2 x USB 3.0/2.0 ports
1 x IEEE 1394a port
1 x RJ-45 port
6 x audio jacks (Center/Subwoofer Speaker Out/Rear Speaker Out/Side Speaker Out/Line In/Line Out/Microphone)

I/O Controller

ITE IT8720 chip

H/W Monitoring

System voltage detection
CPU/System temperature detection
CPU/System/Power fan speed detection
CPU overheating warning
CPU/System/Power fan fail warning
CPU/System fan speed control (Note 6)

BIOS

2 x 8 Mbit flash
Use of licensed AWARD BIOS
Support for DualBIOSTM
PnP 1.0a, DMI 2.0, SM BIOS 2.4, ACPI 1.0b

Unique Features

Support for @BIOS
Support for Q-Flash
Support for Xpress BIOS Rescue
Support for Download Center
Support for Xpress Install
Support for Xpress Recovery2
Support for EasyTune (Note 7)
Support for Easy Energy Saver
Support for Time Repair
Support for Q-Share

Bundle Software

Norton Internet Security (OEM version)

Operating System

Support for Microsoft Windows 7/ Vista/ XP

Form Factor

ATX Form Factor; 30.5cm x 24.4cm

Note
(Note 1) Due to Windows 32-bit operating system limitation, when more than 4 GB of physical memory is installed, the actual memory size displayed will be less than 4 GB.
(Note 2) The DVI-D port does not support D-Sub connector by adapter.
(Note 3) Simultaneous output for DVI-D and HDMI is not supported.
(Note 4) For optimum performance, if only one PCI Express graphics card is to be installed, be sure to install it in the PCIEX16 slot. The PCIEX8 slot shares bandwidth with the PCIEX16 slot. When PCIEX8 is populated with a PCI Express graphics card, the PCIEX16 slot will operate at up to x8 mode.
(Note 5) Two share the same ports with USB 3.0.
(Note 6) Whether the CPU/system fan speed control function is supported will depend on the CPU/system cooler you install.
(Note 7) Available functions in EasyTune may differ by motherboard model.
Remark

Due to different Linux support condition provided by chipset vendors, please download Linux driver from chipset vendors' website or 3rd party website.
Most hardware/software vendors no longer offer support for Win9X/ME. If drivers are available from the vendors, we will update them on the GIGABYTE website.
* The entire materials provided herein are for reference only. GIGABYTE reserves the right to modify or revise the content at anytime without prior notice.
* All trademarks and logos are the properties of their respective holders.
* Due to standard PC architecture, a certain amount of memory is reserved for system usage and therefore the actual memory size is less than the stated amount.
ดูสเป็คต่างๆของเมนบอร์ดนี้กันครบแล้ว ก็ตามไปดูเมนบอร์ดงามๆนี้พร้อมๆกันต่อ ที่หน้าถัดๆไปกันเลยครับ

.