SAPPHIRE AMD Radeon HD6670 1GB DDR5
.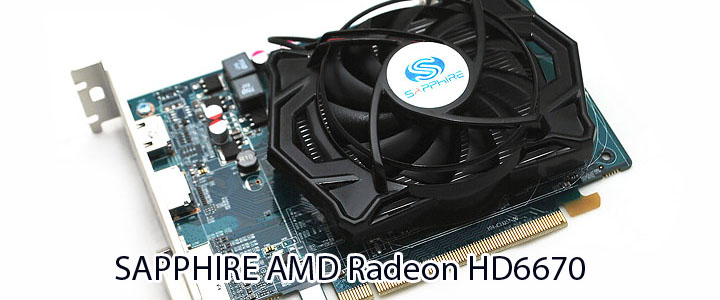 สวัสดีครับสมาชิก Vmodtech ครับ วันนี้มีการ์ดจอรุ่นเล็กจากค่าย AMD มา Review ให้ได้ชมกันครับ หลังจากที่ทาง AMD ได้ทำการเปิดตัว AMD Radeon HD6670 เมื่อวันที่ 19 เมษายน ที่ผ่านมา เจ้าการ์ดตัวเล็กตัวนี้ก็เป็นที่จับตามองเนื่องจากได้ถูกวางตัวไปชนกับการ์ดของอีกค่ายนึง วันนี้ผมได้ทำการทดสอบและนำผลเทสทั้งหมดมาชี้แจงให้สมาชิกได้รับชมกันครับ
1.  Microsoft DirectX 11 Support
Shader Model 5.0
DirectCompute 11
Programmable hardware tessellation unit
Accelerated multi-threading
HDR texture compression
Order-independent transparency
2.  768 GFLOPS Single Precision compute power
3.  128bit GDDR5 memory interface, 64GB/s memory bandwidth
4.  TeraScale 2 Unified Processing Architecture
480 Stream Processing Units
24 Texture Units
32 Z/Stencil ROP Units
8 Color ROP Units
5.    AMD Eyefinity multi-display technology
Native support for up to 3 simultaneous displays
Up to 4 displays supported with DisplayPort 1.2 Multi-Stream Transport
Independent resolutions, refresh rates, color controls, and video overlays
Display grouping: Combine multiple displays to behave like a single large display
6.  AMD App Acceleration
OpenCL 1.1
DirectCompute 11
Accelerated video encoding, transcoding, and upscaling
7.  UVD 3 dedicated video playback accelerator
MPEG-4 AVC/H.264
VC-1
MPEG-2 (SD & HD)
Multi-View Codec (MVC)
MPEG-4 part 2 (DivX, xVid)
Adobe Flash
8.  Enhanced video quality features
Advanced post-processing and scaling
Dynamic contrast enhancement and color correction
Brighter whites processing (blue stretch)
Independent video gamma control
Dynamic video range control
Dual-stream 1080p playback support
DXVA 1.0 & 2.0 support
9.  AMD HD3D Technology
Stereoscopic 3D display/glasses support
Blu-ray 3D support
Stereoscopic 3D gaming
3rd party Stereoscopic 3D middleware software support
10.  40nm Process Technology
11.  Cutting-edge integrated display support
DisplayPort 1.2
Max resolution: 2560×1600 per display
Multi-Stream Transport
21.6 Gbps bandwidth
High bit-rate audio
.
ตารางเปรียบเทียบความสามารถของการ์ดที่อยู่ซึ่งวางตลาดกันอยู่ในปัจจุบัน

.