GIGABYTE Announces M7650 Ultra-optical Wireless Mouse
GIGABYTE Announces M7650 Ultra-optical Wireless Mouse
Innovative ultra-optical sensor allows for mouse movement on virtually any surface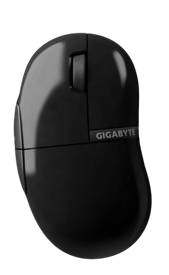 Taipei, Taiwan, 25 February, 2011 - GIGABYTE, a leading manufacturer of motherboards and graphics cards, is pleased to announce M7650 Ultra-optical Wireless Mouse. Self-named by GIGABYTE, "ultra-optical" is optical engine's revolutionary technology. It has developed refraction of the optical beam to enhance tracking resolution. With higher tracking ability, the ultra-optical engine demonstrates excellent performance on various surfaces. With its ultra-optical sensor, M7650 can work well on almost any surfaces including granite, tile, wood, and glossy table. Unlike wireless mice from other leading brands which normally last three months, 2 AAA batteries can support M7650 up to 5 months of battery life. Equipped with 2.4GHz wireless technology, 1000dpi sensitivity, 5 programmable buttons, and a nano receiver, M7650 is available in black and white. With M7650 Ultra-optical Mouse, you no longer need to find a flat surface for the mouse to work.
Product Features
Revolutionary ultra-optical tracking technology
2.4GHz transmission allows 10m efficient working distance
Five programmable buttons
Battery life up to 5 months
Portable nano receiver
Other Options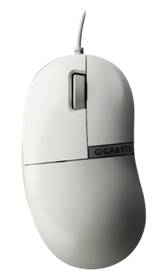 Sharing the same appearance with M7650 Ultra-optical Wireless Mouse, the wired M5650 Smart Optical Mouse features 1000dpi optical engine for accurate resolution. It is also available in both black and white.
.
.
.
.
.
.
.

For more details of PC Peripheral products, please visit the GIGABYTE website at: http://www.gigabyte.com.tw/Products/Peripherals/Default.aspx
Facebook: http://www.facebook.com/pages/GIGABYTE-VGA/138376338834?ref=nf
Twitter: http://twitter.com/GIGABYTE_VGA
About GIGABYTE Upgrade Your Life
GIGABYTE, headquartered in Taipei, Taiwan, is known as a global leading brand in the IT industry, with employees and business channels in almost every country. Founded in 1986, GIGABYTE started as a research and development team and has since taken the lead in the world's motherboard market. On top of motherboards and graphics accelerators, GIGABYTE further expanded its product portfolio to include notebook and desktop PCs, digital home entertainment appliances, networking servers, communications, mobile and handheld devices, servicing every facet of people's lives at home or business. Everyday GIGABYTE aims to "Upgrade Your Life" with the most innovative designs and impeccable quality and services. Visit www.gigabyte.com for more information.