GIGABYTE Announces M7770 Mini Laser Wireless Mouse
GIGABYTE Announces M7770 Mini Laser Wireless Mouse
Best holiday gift ideas start from GIGABYTE peripherals
Taipei, Taiwan, 10 December, 2010 - GIGABYTE, a leading manufacturer of motherboards and graphics cards, welcomes a new addition to its series of wireless laptop mice, M7770 Mini Laser Mouse. Targeted at the mobile computing market, the compact M7770 measures (L)80* (W)53* (H)32 mm for excellent portability. M7770 not only comes with two standard AAA batteries, its smart power saving technology also allows for up to 6 months of battery longevity. Equipped with laser sensor, 2.4GHz wireless technology, adjustable on-the-fly 800/1600 DPI switch, rubber inserts on the side, a nano receiver, the M7770 Mini Laser Mouse is available in noble black and silver. At an affordable price, M7770 may just be your best holiday gift this year.
Product Features
High-precision laser sensor
2.4GHz wireless technology
800/1600 DPI switch on the back
Battery life up to 6 months
Portable and storable nano receiver
Rubber inserts on the side for a non-slip grip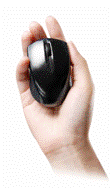 Compact M7770 Mini Wireless Mouse is able to fit nicely in your palm.
For more details of PC Peripheral products, please visit the GIGABYTE website at: http://www.gigabyte.com.tw/Products/Peripherals/Default.aspx
Facebook: http://www.facebook.com/pages/GIGABYTE-VGA/138376338834?ref=nf
Twitter: http://twitter.com/GIGABYTE_VGA
About GIGABYTE Upgrade Your Life
GIGABYTE, headquartered in Taipei, Taiwan, is known as a global leading brand in the IT industry, with employees and business channels in almost every country. Founded in 1986, GIGABYTE started as a research and development team and has since taken the lead in the world's motherboard market. On top of motherboards and graphics accelerators, GIGABYTE further expanded its product portfolio to include notebook and desktop PCs, digital home entertainment appliances, networking servers, communications, mobile and handheld devices, servicing every facet of people's lives at home or business. Everyday GIGABYTE aims to "Upgrade Your Life" with the most innovative designs and impeccable quality and services. Visit www.gigabyte.com for more information.