GIGABYTE Brings ECO600 Long-lasting Wireless Laser Mouse‏
GIGABYTE Brings ECO600 Long-lasting Wireless Laser Mouse
Laser Mouse 12-month Battery. Energy Saving From Now On!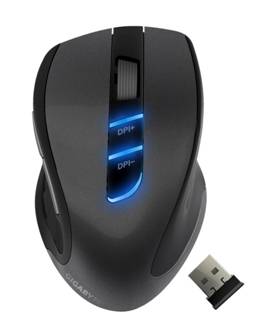 Taipei, Taiwan, 23 May, 2011 - GIGABYTE, a leading manufacturer of motherboards and graphics cards, is pleased to announce a Long-lasting Wireless Laser Mouse – ECO600. As the name suggests, ECO600 Long-lasting Wireless Mouse offers a long battery life of up to 12 months. The long-lasting battery life not only helps you saving time and money for batteries replacement, but also a practical environment-friendly way for energy saving! Along with precise laser tracking, 2.4GHz wireless technology, and portable Nano receiver, ECO600 enables 10 meters efficient working distance. It also features ergonomically designed shape with soft rubber grip, and 3-stage blue LED indicator changing along the on-the-fly 1600/1200/ 800 adjustable resolution. There is a blinking indicator light that allows you to know when the battery goes low. Bring GIGABYTE ECO600 Long-lasting Wireless Mouse home with you, and you will be free from worrying about limited battery life!
Product Features
·    2.4GHz laser tracking engine
·    Long-lasting battery life up to 12 months
·    On-the-fly 800/1200/1600 adjustable resolution with 3-stage blue LED indicator
·    Five programmable buttons
·    Portable Nano receiver
For more details of GIGABYTE ECO600, please visit the website at: http://www.gigabyte.com/products/product-page.aspx?pid=3821#kf
Facebook: http://www.facebook.com/pages/GIGABYTE-VGA/138376338834?ref=nf
Twitter: http://twitter.com/GIGABYTE_VGA
About GIGABYTE
GIGABYTE Technology Co. Ltd., headquartered in Taipei, Taiwan, is known as a leading brand in the IT industry with branch offices located in 24 countries around the world. Founded in 1986, GIGABYTE started as a small research and development team and has since taken a position as one of the in the world's top motherboard manufacturers. In addition to motherboards and graphics cards, GIGABYTE further expanded its product portfolio to include notebook and desktop PCs, datacenter servers, networking products, mobile handsets, and home entertainment devices to serve each facet of the digital life in the home and office. Everyday GIGABYTE aims to "Upgrade Your Life" with innovative technology, exceptional quality, and unmatched customer service. In 2011, GIGABYTE celebrates its 25th anniversary. Through a quarter of century, we have committed to quality excellence and serviced our clients with enthusiasm and professionalism. We will continue to navigate into the future in full sail.
Visit www.gigabyte.com for more information.