GIGABYTE First to Market with AM3+ "Black Socket" Motherboards
- GIGABYTE First to Market with AM3+ "Black Socket" Motherboards -
– Enabling Support for AMD Next Generation CPUs for Current AMD 800/700 Series Chipset Motherboards –
…GIGABYTE ล้ำยุคกันอีกครั้ง ด้วยการส่งมาเธอร์บอร์ดที่รองรับซีพียู AMD รุ่นใหม่ที่เป็น 32nm ออกมา โดยที่บอร์ดนี้จะใช้ชิปเซตซีรีย์ 800/700 ในปัจจุบันเป็นตัวขับเคลื่อน แต่เปลี่ยนซอคเกตเป็นสีดำ เพื่อเป็นจุดสังเกตว่าเป็น Socket AM3+ ที่สามารถใส่ได้ทั้งซีพียูที่เป็น 45nm AM3 938ขาในปัจจุบัน และซีพียู 32nm AM3+ รุ่นใหม่ที่จะออกมาในอนาคตอันใกล้นี้ งานนี้เตรียมการแรงถึงอนาคตกันได้แบบไม่ต้องกลัวตกเทรนด์แน่นอนครับ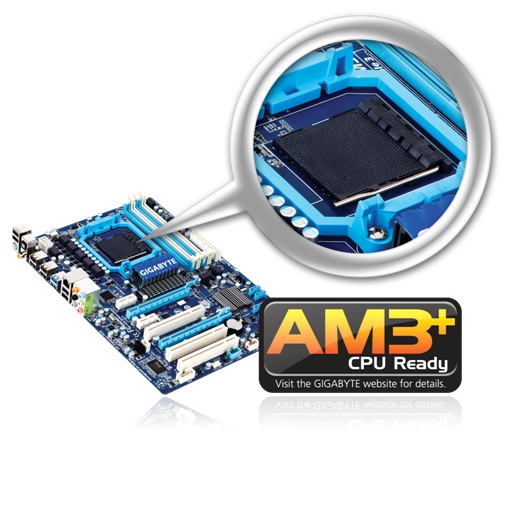 Taipei, Taiwan, April 01 2011 - GIGABYTE INC., a leading manufacturer of motherboards and graphics cards today announced a new line of 16 "Black Socket" motherboards previously unveiled at CeBIT 2011 that offer support for AMD's next generation , 32nm AM3+ CPUs and are based on current generation AMD 800/700 series chipset-based motherboards.
Wanting to ensure users their motherboard is able to take advantage of all the performance enhancements that AMD's upcoming AM3+ CPUs have to offer, GIGABYTE has equipped their entire line of AM3+ CPU ready motherboards with a new black colored socket, making it easy to spot for AM3+ support. In addition, GIGABYTE "Black Socket" series offer full backwards compatibility with AMD's current generation AM3 socket CPUs, allowing for painless migration to the AM3+ CPUs when they become available.
GIGABYTE AM3+ "Black Socket" Series
To learn more about the GIGBYTE AM3+ ready "Black Socket" motherboards, please visit:
http://www.gigabyte.com/MicroSite/274/mb-am3plus.html
Share the news to Facebook and Twitter
About GIGABYTE
GIGABYTE Technology Co. Ltd., headquartered in Taipei, Taiwan, is known as a leading brand in the IT industry with branch offices located in 24 countries around the world. Founded in 1986, GIGABYTE started as a small research and development team and has since taken a position as one of the in the world's top motherboard manufacturers. In addition to motherboards and graphics cards, GIGABYTE further expanded its product portfolio to include notebook and desktop PCs, datacenter servers, networking products, mobile handsets, and home entertainment devices to serve each facet of the digital life in the home and office. Everyday GIGABYTE aims to "Upgrade Your Life" with innovative technology, exceptional quality, and unmatched customer service. Visit www.gigabyte.com for more information.