GIGABYTE GTX 580 WINDFORCE™ 3X Refreshes Overclocking Records
ใ
GIGABYTE GTX 580 WINDFORCE™ 3X Refreshes Overclocking Records
– GIGABYTE GeForce™ GTX 580 WINDFORCE™ 3X is the number one in 3DMark 03 graphics benchmarks –
Taipei, Taiwan, March 22, 2011 – GIGABYTE, a leading manufacturer of motherboards and graphics cards, is pleased to announce a world record of dual GPU 196003 3DMark 03 score with GIGABYTE's GTX 580 WINDFORCE™ 3X (GV-N580UD-15I) graphics cards in graphics card overclocking records. Currently, the number one GTX 580 world records of dual GPU in 3DMark 03 is created with GIGABYTE's very own GTX 580 WINDFORCE™ 3X. GIGABYTE also congratulates overclocker Predator for his outstanding scores.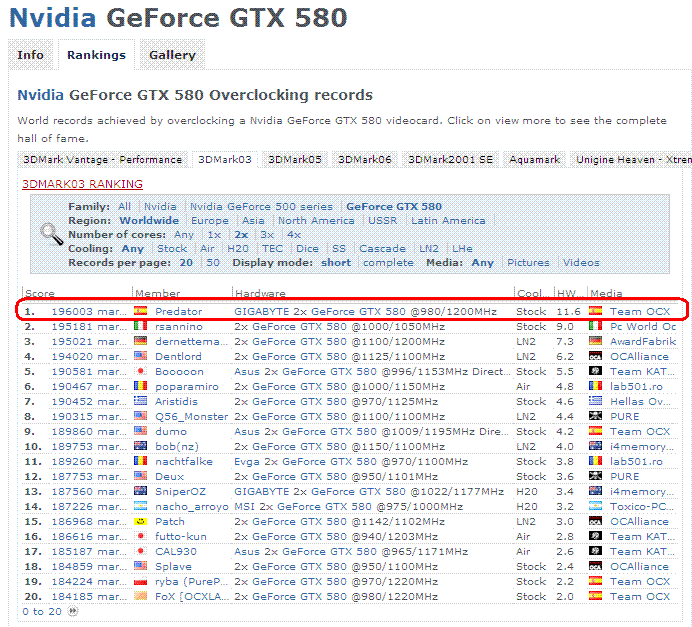 TOP 20 WORLD RECORDS OF DUAL GPU IN 3DMARK 03
Data collected as of March 22nd, 2011
ลองเข้าไปดูความแรงได้ที่นี่เลยครับ Data Source: http://hwbot.org/hardware/videocard/geforce_gtx_580?tab=rankings#/manufacturer.rankings.do?applicationId=2&manufacturer=nvidia&hardwareTypeId=GPU_1744&hardwareType=GPU&tabid=gpubenchmarks
GIGABYTE GTX 580 WINDFORCE™ 3X

(GV-N580UD-15I)

The world record breaker:

· WINDFORCE™ 3X cooling solution: WINDFORCE™ 3X outward-inclined fin design is GIGABYTE's innovative new generation triple-fan solution, which features 3 ultra quiet PWM fans, two 8mm copper heat pipes and a king-size (140×86 mm) vapor chamber to maximize the speed of heat dissipation.
For more details of GIGABYTE GV-N580UD-15I, please visit the GIGABYTE VGA website:
http://www.gigabyte.com/products/main.aspx?s=43
Facebook: http://www.facebook.com/pages/GIGABYTE-VGA/138376338834?ref=nf
Twitter: http://twitter.com/GIGABYTE_VGA