Antec TPQ-1200 Overclocking Version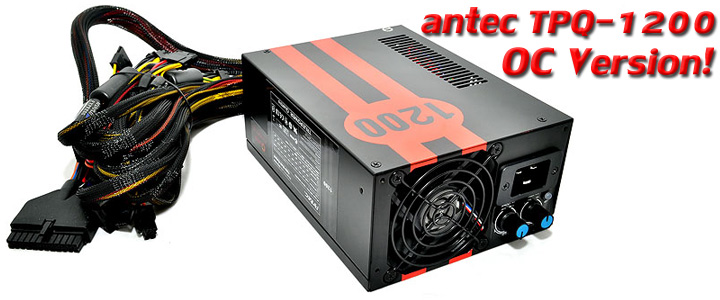 …สวัสดีครับ วันนี้ก็พบกับผม Venom-Crusher กันอีกครั้ง โดยวันนี้ผมก็มี Power Supplies เทพๆมานำเสนอในรูปแบบ Preview เรียกน้ำย่อยกันอีก 1รุ่นนะครับ โดยคราวนี้จะมากันในแบรนด์ Antec ในรุ่น TPQ-1200 Overclocking Version ซึ่งจะเป็นรุ่นที่ต่อยอดออกมาจาก TPQ-1200 ที่ทาง Vmodtech.com เราเคยรีวิวไปทีหนึ่งแล้ว ในบทความ Antec TPQ-1200 Review ก่อนอื่นเราไปดูสเป็คต่างๆของ Power Supplies จากทางผู้ผลิตกันก่อนเลยนะครับ
.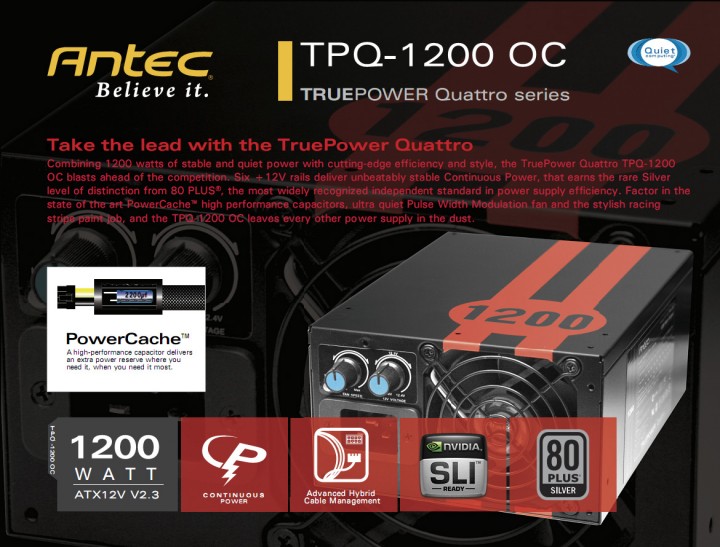 (Click Screenshot to Enlarge)
.
Experience the ultimate superfire!
TPQ-1200 Overclocking Special Edition, Antec TruePower Quattro series of power challenges overclocking limit! TPQ-1200 OC group of the industry's super six +12 V output, the system continued transmission extremely stable real power, the conversion efficiency of greater access to world authority efficiency certification 80Plus ® Silver certification. Coupled with the latest cutting-edge PowerCache Antec technology to design for overclocking and fan speed control knob voltage regulator knob, very quiet PWM fan and red racing stripe stunning appearance, TPQ-1200 OC to bring you to experience the ultimate in power!
Specifications:
PowerCache ™ Add-high compensation capacitor: a sophisticated new technology, its CPU and graphics card power supply wire to attach the short end of the high 2200uF capacitor, reducing power supply circuit, the current demand, along with more power between the complement
Power fan speed control knob x1 / +12 V output voltage regulation (11.8V-12.4V) knob x1
80PLUS ® Silver certification: more than 85% efficiency value (in the voltage load 20%, 50%, 100% state)
Support four GPUs and quad-core CPUs Core ™ i7/i5
NVIDIA ™ SLI ™-Ready certification and ATI CrossFire ™ Certified
Full line of high-quality capacitors, to make it more durable
6 Group +12 V output DC-DC converter module, ensure the stable operation of the system
80mm PWM cooling fan double ball, make the system more quiet
High current gold-plated plugs to make better contact with
High performance hybrid cable management, power distribution and supply air flow to provide the best solutions
The world's universal input and active PFC, reduce the power loss
Industrial-grade protection circuitry: short circuit protection, overvoltage protection, undervoltage protection, overcurrent protection
Certification: UL, cUL, FCC, TÜV, CE, C-tick, CCC, CB, BSMI
Feature
Continuous output power: Antec power supplies are all marked continuous output power to ensure the product has enough watts of output. Unlike the peak power of the products labeled only momentary peak power output.
High performance hybrid cable management: Combination of traditional and modular power supply all the advantages, so taking into account the high efficiency and good ventilation the two major advantages.
PowerCache ™: Additional high-compensation capacitor, it can reduce the power supply circuit, instantaneous fill current needs.
The back of increased power for overclocking to design a power supply fan speed control knob and a +12 V output voltage regulation (11.8V-12.4V) knob.
NVIDIA ™ SLI ™-Ready Certified: By NVIDIA ™ SLI ™-Ready highest certification that the product has enough power output.
.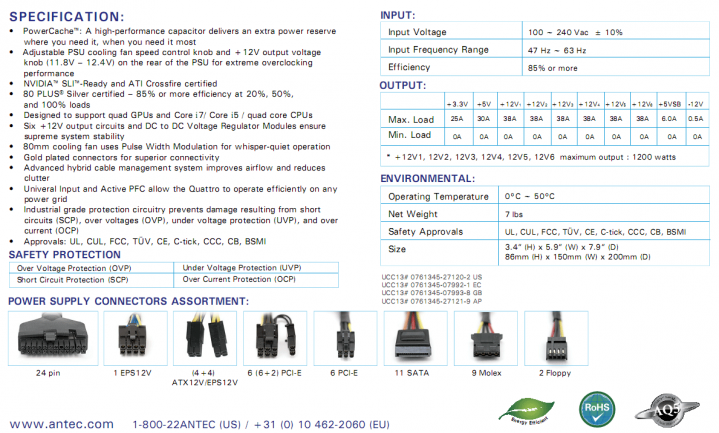 (Click Screenshot to Enlarge)
.
More Informations >>Click<<
.