KINGMAX USB 3.0 External HDD KE-71 Offers Ultra-Speed Experience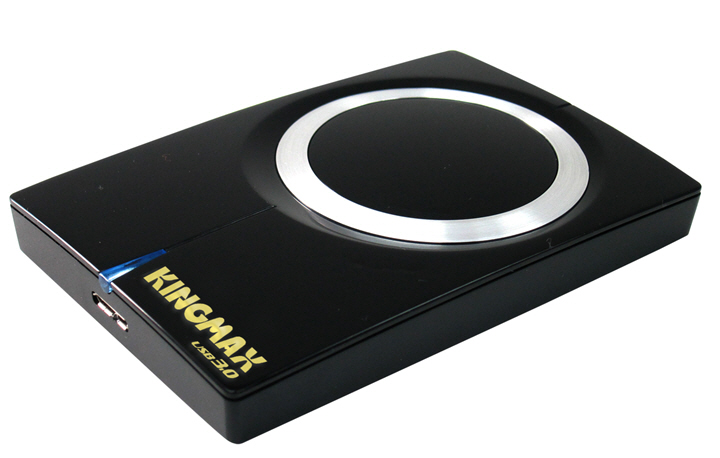 HDD External USB 3.0 ใหม่ล่าสุดจาก KINGMAX KE-71 กำลังจะวางตลาดเร็วๆนี้ที่บ้านเราเตรียมตังค์ไว้ซื้อกันได้เลยนะครับ ถ้ายังไม่แน่ใจว่าแรงจริงหรือเปล่า รอดูรึวิวได้ที่เราเร็วๆนี้แน่นอนครับ
As HD-level contents are getting more and more popular and multimedia files double in size, savvy consumers are increasingly demanding for storage devices with a small size, large capacity, high access speed, and enhanced data security. In responding to this market trend, storage solution providers have focused their RD effort on USB3.0. Highly sensitive to market trends, KINGMAX, the leading memory manufacturer, has recently launched USB 3.0 external HDD KE-71. In addition to its ultra-high speed, 10 times faster than USB2.0, KE-71 can rapidly complete large files transfers, greatly reduce wait times, and is thus incredibly convenient.
With USB3.0 interface, the speed of KE-71 is increased from 480Mbps to 5Gbps (625MB/sec). It takes 14 minutes with USB2.0 to transfer a file with 25GB, like 3D high-definition Blu-ray Disc, but the time to transfer during USB 3.0 environment is only requires 1.2 minutes. Whether it is file synchronization or backup operation, users can save a lot of time with KE-71. To facilitate identification, KE-71 has multicolor LED to indicate USB 2.0/3.0 connection type accordingly, while running USB3.0 environment the LED would turn blue, under USB2.0 would turn yellow. In terms of power supply, KE-71 with USB3.0 supplies 900mA of power, an 80% increase over USB 2.0 (500mA), and users on average can save up to 50% of power consumption. Thus, KE-71 with USB3.0 is energy efficiency than usual.
With a weight of only 170g, KINGMAX KE-71 is very slim. Its external case is glossy design and scratch-resistant. A silicone gasket is adopted for enhanced adhesion, durability and sealing protection and this enables KE-71 to be shock-resistant. What is more, the built-in 256 bit AES encryption technology guarantees the security for personal data. As for data backup and recovery, KE-71 can back up all desired data and reduce the possibility of data loss to a minimum. In terms of capacity, KE-71 offers 640GB capacity which can store 16,000 MP3 files, 192,000 photos, or even 1,280 hours of video files. KE-71 with USB3.0 is perfect for storage applications - especially multimedia files which were required data compression in the past. With USB3.0, file compression is not required and hence, it is very convenient.
In order for consumers to enjoy unlimited various multimedia files, KINGMAX introduced two versions of KE-71 - 500GB and 640GB. Whether you are a student or professional, whether you intend to use it for entertainment purposes or for your job, you will find KINGMAX is an excellent choice for your external HDD needs. With KINGMAX KE-71, you will have more fun in your life. KE-71 not only offers backward compatibility with USB2.0 but also supports Windows 7.
Capacity

Music (MP3)

(3.5min song)

Picture

(10MP)

Video

(H264;@768kbps)

500GB

125,000

Songs

150,000

Pictures

1,000

hours

640GB

160,000

Songs

192,000

Pictures

1,280

hours
Specification
-2.5″ HDD
-HDD interface : Serial ATA (up to 3Gbps)
-USB 3.0 Super Speed (High speed transfer rate up to 5 Gbps/sec)
-Standard compliance : USB3.0/2.0
-Interface port : USB 3.0 microB
-System Requirement :
Window 2000/ 2003/ XP/ Vista
Mac OS 9.x and 10.x or higher (FAT32 format only)
Linux 2.4 or higher (FAT32 format only)
-Software :
PCClone Ex lite
SecureDrive EX2
-Support : Window 2000/ 2003/ XP/ Vista/ 7
-LED indicator:
USB3.0 : blue
USB2.0 : yellow
-Color : Black
-Size : 124 x 84 x 18mm
-Weight : 170g
Features
-USB3.0 Super speed (KE-71)
-Glossy design
-Anti-scratch
-Shockproof
-Free Software bundled
Backup function
Security function